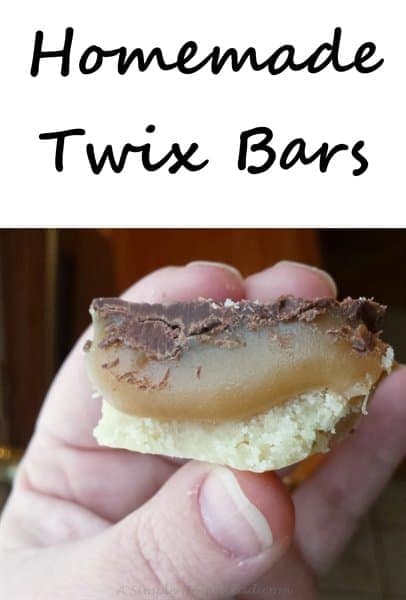 Remember the old adage "What do you do when life gives you lemons? You make lemonade!" Well, that happened this last week. I started my annual Christmas homemade caramels baking only to have them come out super-soft. So soft that they were sticking to the parchment paper and difficult to get off. I just didn't get it. I've made them for years and never had a problem.
When I was making a second batch later, Papa realized it was his mistake. In the middle of my process, he had been talking about making caramel puff corn (similar to this recipe) that was supposed to boil until it reached 234°F. Instead of boiling the caramels to 245°F – I pulled the caramels off the heat a full 10 degrees too soon!
I did "cut" (pull? mold?) some and wrapped them in wax paper but I think they'll have to be eaten straight from the freezer. The big question was what to do with the rest of it?!
This is the time of year when there are all sorts of potlucks, family gatherings, and we even signed up to serve treats at church. I thought I could perhaps use the soft caramels and make a version of homemade Twix bars!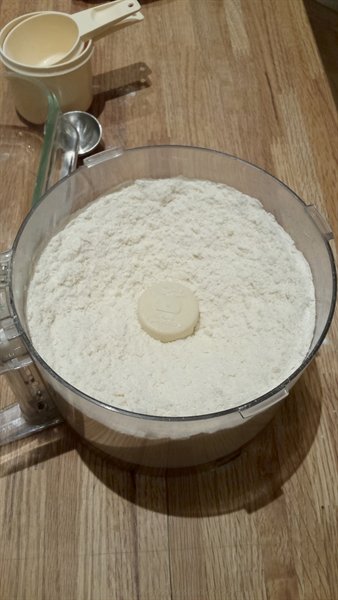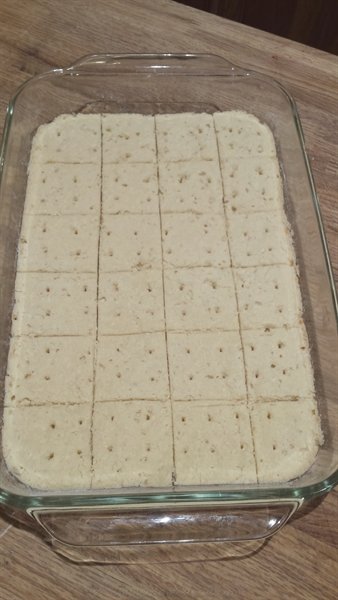 I know there are recipes out there for this sort of thing, but I knew exactly how I wanted mine to be. First, I would need a shortbread crust. We have a recipe our family has used for years that would be perfect!

The toughest part about making it is getting the butter incorporated into the flour so it's nice and flaky. I'm so used to doing it by hand and I started off that way until Papa questioned why I wasn't using our food processor. I forget about such modern conveniences sometimes 🙂

The shortbread was baked according to directions, and I let it cool for a few minutes before I cut a big slab of caramels and laid it over the top.
If I were making this from the start and not trying to correct a mistake, I would probably only make half a batch of caramels – and I would take the temperature up to at least 240°F if not the full 245°. Although, having a full batch and the softer caramels worked too.
Then I popped the pan back in the oven for around 10 minutes to bake and spread the caramels. Again, if you were starting from scratch you should just be able to pour the hot caramel liquid over the shortbread and skip this step.
Once the pan was removed from the oven, I sprinkled a bag of chocolate chips over the top. However, they started to sink into the hot caramel about as fast as they were melting so I had to work fast. I think it would be better to:
Let the caramels cool
Melt the chocolate separately and pour over the cooled caramel
Use more chocolate (but we only had the one bag on hand)
Although, my method worked too. How well did it work? Well, first I took them to an office potluck where only a few disappeared (we had an over-abundance of sweets!). I figured we were going to be eating and sharing them for a while.
However, we had signed up to bring treats for after church. Sunday morning we woke to bitter cold (-12°F), Little Chick had a cough and it was obvious a nasty cold had captured me. So Papa went to church on his own with several containers of cookies, fudge, quick breads and the Homemade Twix bars. Sixty people showed up for church that morning. Sixty! – less than half the normal attendance. But those people must have worked up a hunger to brave the cold. He came home with less than half the cookies and quick breads, no fudge, and no bars!! There was 3/4 of a pan left over when he left. What can I say, people devouring our treats makes us happy! 🙂 Although Uncle Eric will be unhappy … he was jealous of the pictures I showed on social media this weekend (sorry, Uncle E!)
And that's how you turn "sour" caramels into sweet lemonade … er, bars. 🙂
Print Recipe
Homemade Twix bars
Ingredients
2 1/2

cups

all-purpose flour

6

Tbsp

sugar

1

cup

butter

Homemade Caramels

12 – 24

oz

chocolate chips

1 – 2

Tbsp

butter or coconut oil
Instructions
Shortbread
In a mixing bowl, combine the flour and sugar. Cut in the butter until the mixture resembles fine crumbs and starts to cling. A food processor works well for combining the ingredients, if you have one.

Pour into an ungreased 9″x13″ baking pan and press to compact the dough mixture. The bottom of a pancake flipper or another flat-bottomed dish can help smooth out the crust.

Bake at 325°F for 34-40 minutes or until the crust is a light golden brown.
Homemade Caramels
Make 1/2 or 1 batch of caramels. Pour over the shortbread crust. Cool.
Chocolate topping
Place chocolate chips and butter or coconut oil into a microwaveable bowl. Heat on high until chocolate chips are melted, stirring every 30 seconds. Pour over the cooled caramel layer.