I had thought to show this in my Norskedalen post, but that was long enough already with all the pictures I took! I'm curious – when does something become a tradition? The first year you do something, or only after you repeat it? I'm guessing the latter, which means we added a fall tradition this year.
Just a few miles down the road from Norskedalen is a family-owned grape farm. It just so happens that grape harvest is this time of year so they have grapes for sale to the public. Last year they picked and we just bought, but the owner was too busy this year and therefore lowered the price and let people pick your own. That's a bonus for us because we can get more grapes for the same amount of money! I believe last year we only purchased a couple of pounds but this year Papa picked close to 10 lbs of grapes.
We learned this great "recipe" from a friend after picking grapes last year: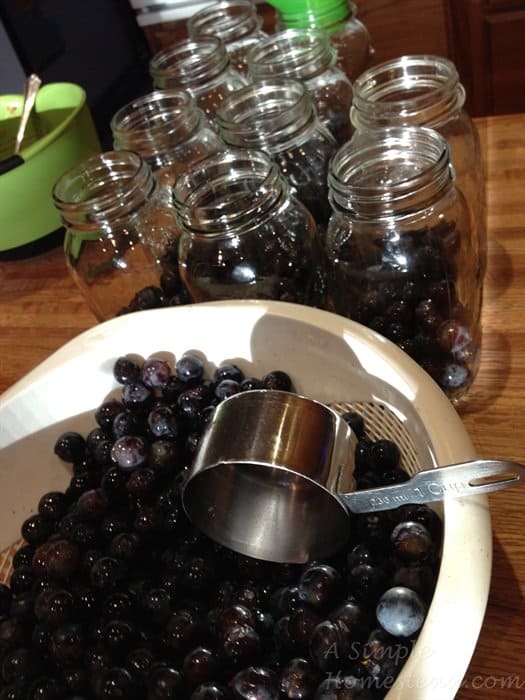 Take one cup of washed grapes and add them to a quart jar. Pour in 1/2 cup of sugar (personally I think this could be a lot less, but that's what we were told). Fill the jars to the bottom of the screw threads with hot (boiling) water. Cover and seal them using the hot-water bath method.
You need to let these sit for a few weeks but it makes the tastiest grape juice! Simple and easy.
In case you're wondering, that isn't grape on the right-hand side. We had a small batch of tomatoes we also needed to process and use up so these were canned at the same time.
Papa made 12 quarts of grape juice this year – that's a lot for a family that doesn't drink a lot of juice! He still had almost 1/2 the grapes left over so they went into jelly. Last year he ground up the grapes using our Victorio Food Strainer
and then he made jelly from the juice. This year he cooked up the grapes, skins and all and then strained them through a cloth. Isn't that a pretty color? 🙂
I thought last year's grape jelly was delicious – far better than store-bought. But this year? Even better! Papa agreed that letting the juice combine with the skins made it darker in color and taste more "grapey".