Disclaimer: The links below may be affiliate links. If you purchase any products after clicking on these links, at no additional cost to you, A Simple Homestead will receive a small commission for making you aware of these important resources.
I have a serious stash problem. And then my family says, "well, duh!"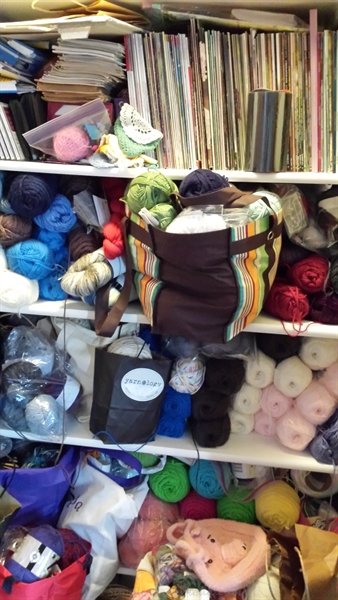 Not that it's ever stopped me from accumulating more. I'll be good for a while and then WHAM!
Case in point … YARNventure 2017. It's the annual SE Minnesota shop hop that Mom and I have attended a few times. I wrote about last year's trip here. This year I debated – even up until the morning we were going to travel as to whether or not I wanted to hit all the stops this year. Then we heard the grand prize, if you had your ticket punched at all four places, was a $100 gift certificate to EACH STORE! Totally worth the trip. (we didn't win the grand prize, but I did win a 2-skein prize from BeeLighted. I'll show you later what it was after I pick it up)
Going on Friday is definitely a better choice. We were at yarnology right at 9am in the morning and assumed that would be the only place we'd receive a goodie bag (given only to the first 50 people per day). We ended up receiving a bag at 3 out of the 4 places!
I came home with… (in the picture – from left to right, sort of)
from yarnology
a skein of Jilly Lace in color Candy Love
the book Knits from the Heart of Norway by Irene Haugland. I bought this for the Norwegian stranded knitting charts more than the actual sweater patterns themselves.
a goodie box which had a furry key chain, a Spud & Chloë tape measure, a Minnesota magnet and a button to add to my collection
from Kelly's Quality Sewing Center (now closed)
a goodie bag that had a little needle keeper and plastic compartment box (so useful)
(I didn't find anything else; but last year I bought a whole bunch of Tunisian crochet books)
from BeeLighted (now closed)
a Wonderland Yarns 5-pack of Mad Hatter yarns in colorways "Lights, Pt. 2"
a fun tie-dyed goodie bag with lip balm, washi clothespin, pen, buttons, and other treasures
from Northfield Yarn
two balls of Mochi Plus, 561. I loved these colors! They were on clearance and I couldn't pass them up!
one skein Koigu KPPPM which I plan to combine with…
one skein Malabrigo Sock in 083 Water Green… to create a shawl
and Sweet George TLS (tough love sock) in the colorway "wooded lilac" which was specially created for this hop
I would have picked up more – as I fell in love with a lacy scarf design in gradient yarns just as we were leaving. Fortunately Mom pushed me out in time…
I don't have any on-the-road pictures this year because I forgot. Fortunately, we didn't feel quite as tuckered out after traveling those 200+ miles as we did last year, otherwise the day after would have been a do-nothing day. Mom and I decided it might be attributed to two things: 1) we didn't dawdle as long at each shop (well, except Northfield Yarn – as I mentioned I was having trouble leaving there without the whole store in my bag) and 2) it was much cooler this year. Last year we remember walking across steaming hot parking lots to get into the stores.
Instead of staying at home on Saturday, Mom and I got together at her house and organized another type of stash: beads! I've been trying to work on making some more stitch markers (Notice: shop update coming soon!), but it became quite evident that I first needed to take some inventory as to what I had.
I had decided the week before that I needed a better way to organize them. In order to bring out all my supplies, it was taking me multiple trips to grab this basket, that box, another box … you get the picture. A few years ago, Dad bought a boatload of coin tubes similar to these:
They work PERFECTLY for holding beads. They are a great size if you don't have only one or two strands of each kind (like I currently do) and with the clear sides you can see what you have!
So now all (well, 95%) of my bead stash is now in the coin holders and labeled with an inventory number (and millimeter size, if applicable). So nice to have that done.
In other crafting news…
This is an older design that I recently cleaned up, wrote out the pattern for multiple sizes and I'm looking for some testers to make sure my sizes are correct. If you're willing to help, the call for testers is in this thread on my Ravelry group (it's not a requirement to join the group). There are 3 child sizes and 2 adult sizes to choose from.
p.s. If you don't have time to test but are interested in this pattern, be sure to sign up for my newsletter to be notified of pattern releases, discounts and even giveaways! Remember, there are always additional resources and articles listed in the emailed newsletter that you won't see here.
I'm currently working on a set of knit washcloths based on the "Grandmother's Washcloth" idea – where you start with just a few stitches, increase so you're knitting the piece diagonally and then you decrease every row when it is large enough. I came up with the concept a couple years ago, but I'm remaking them … as the others became presents 🙂
I'm also scrambling to finish a crocheted afghan made from 12″ squares. It's due tomorrow (yes, June 30th) to qualify for the Ravelry Designer's Challenge. The border goes on tonight so I should be able to finish in time. Although I should have remembered that it is NOT a good idea to work on full afghans in June. Just seaming up pieces in the last couple of days was HOT work.
While making it, I recorded a few video tutorials for the trickier parts. Now I know why I haven't done that before. It is extremely hard to find a quiet, uninterrupted location in my household!! I haven't watched them, but I'm sure they are going to need some editing. There were quiet a few sighs, moans and "grrr"s after I had to press the pause button. 🙂
I'm currently taking a design-related class called "A System of Grading" by the lovely Jill Wolcott. It's a live, online, weekly class about how to "grade" or adjust the instructions for your primary size into multiple sizes. This is week 3 and up until now I have spent my time thinking there was a lot more that I didn't know than I did! This week something "clicked". I still think there's more to what I don't know, but at least it's making a bit more sense 🙂 Still, grading is quite a complex matter when you take into account how many different body shapes there can be in combination with many sizes.
So, what are you crafting these days? I'd love to hear!
Or tell me … what is the size of your stash? Have any of your craft supplies reached SABLE*?
*SABLE – stash acquired beyond life expectancy