Maybe I should have saved my Charlotte shirt for today because I don't have much to share now.  I snuck one Underground Crafter Sampler Mystery square in before the end of the month.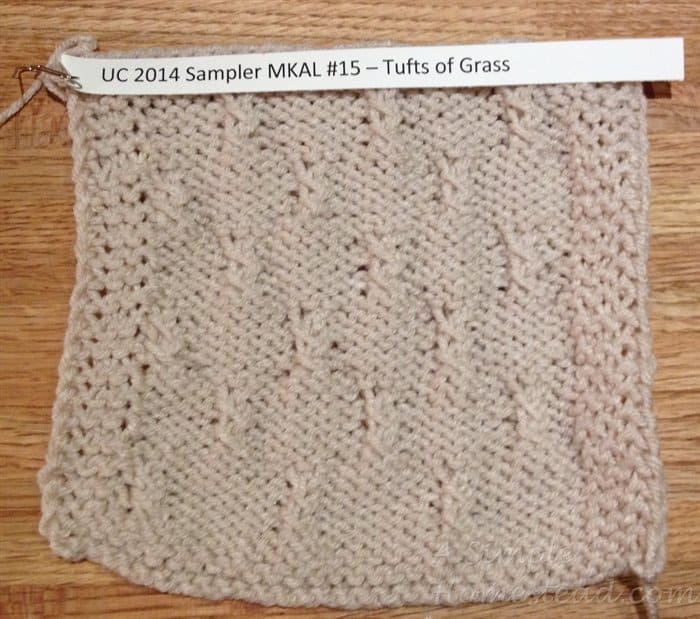 Almost two weeks ago she released square #20 so I still have 5 more squares to catch up, and a new one will be released this coming Wednesday (the clues come out every two weeks).  This square almost looks like it's backward but this truly is the front of the square.  The back looks nice too so I may decide to use that when putting the squares together.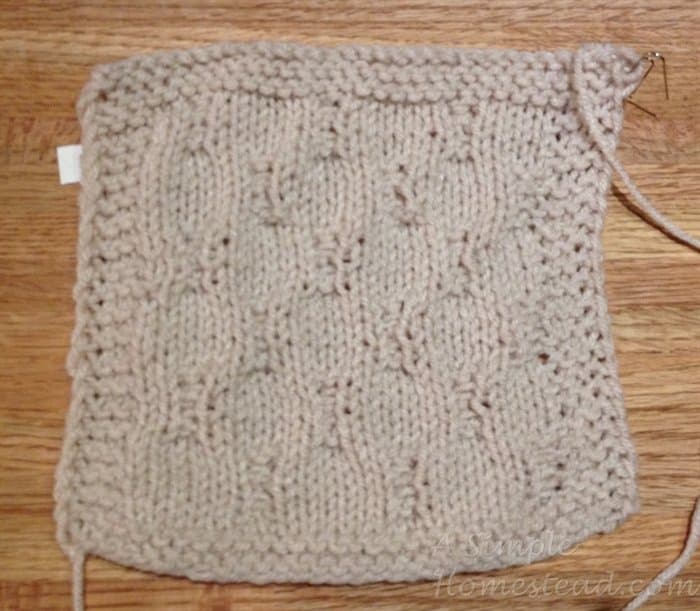 It's amazing what you can do with just some simple stitches.  This used knit, purl, slip, yarn-over, and psso – which is passing the slipped stitch over two other stitches.
I also managed to felt my leaf swatch this past week.
It's not a perfect felt but I did it by hand and was just trying to get a general idea of how much it would shrink. I asked Little Chick what she thought it looked like and she said "a bird!". I rather agree with her, so I'm changing my design a bit so it looks more like a maple leaf.
After finishing my shirt and the square, I was a bit at a loss as to what to work on next. Don't get me wrong. I have plenty of projects! I still have my weather afghan which needs blocks from June – September. There's the Checkerboard Afghan I was working on – that CAL ended in early July so I could finish at any time. There's the Underground Crafter KAL which I'm behind on. I need to try and remake my JMF Vest. I still need to knit up my harvest bag. And of course there's a long line of knit-a-longs and crochet-a-longs ending this month that I'd love to participate in. But I wasn't sure what to start. Some I couldn't start until October 1 anyway!
I finally decided on a project I've wanted to do for a while.  I said after Christmas last year that my goal was to knit socks for my friends and family for Christmas 2014.  A lofty goal, but I could do it.  Except … I haven't started.  Ok, I guess that won't happen this year.  However, apparently, this month is Socktober – at least according to Ravelry.  Socks are the "in" thing to knit this month.  So I started on a sock pattern called "Little Pumpkins".  I didn't get very far anyway before the month turned over.
I'm using a variegated yarn with lots of reds and oranges; I'm hoping there's not too many color changes so the pumpkins still stand out. This is what they will look like (hopefully).