I wrote most of this post yesterday … and then I had to redo it. As of Thursday afternoon I didn't have a finished project to showcase this week. By Thursday evening … I had TWO! The wonder of getting things done while the little one takes a bath, especially when said bath results in 45 min of uninterrupted needlework time. I had been struggling with hat design #2 for the Schachenmayer My Mountain hat design contest. Technically I only have to submit one, but they were kind enough to send me a skein of yarn that didn't really coordinate well with the other two so I'm trying to design a hat that will use just one skein of the Boston yarn. More difficult to do than I thought. I'm hooked (no pun intended) on Tunisian crochet right now and even taught myself how to TC in the round – fascinating technique! But many of the TC stitches use more yarn than other techniques. Even my regular crochet attempt was going to end up with a hat that would run out of yarn … or might not fit a preemie. It's now finished – whoo hoo! I'm calling this my Mt. Finley hat.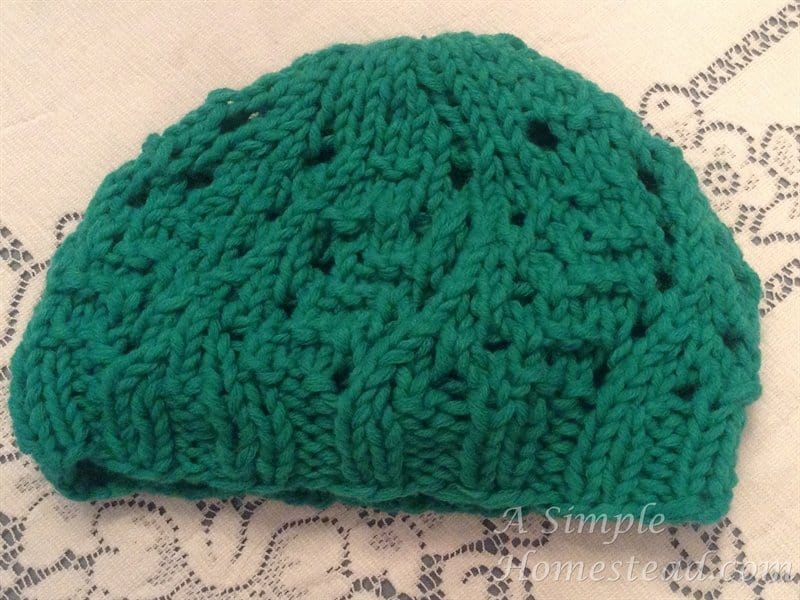 It's done up on large needles again so the weave is quite loose. I added some texture and lacy holes to give it some dimension. Again, this is plenty big enough for my XL head.
Pattern: Mt Finley hat
Designer: me!
Yarn: Schachenmayr SMC Boston (bulky weight)
Colorway: 00172
My Rav project page
Modeled by: me
My second finished item is Afghan Square #4. This one came together so quickly. I guess I'm faster at crocheting than knitting.
Or maybe it's because this is a quick pattern. It's just a series of single crochets and chains. If I remember correctly I started this one or two bath times ago so it took me right around an hour to whip up. Here's a closeup of the stitches … so pretty.
Pattern: Afghan Sampler Square #4. From Priscilla's Crochet: Five Textured Dishcloths. This is Dishcloth 1 from the set.
Designer: Priscilla Hewitt
Yarn: Hobby Lobby – I Love This Yarn!
Colorway: 240 – Linen
My Rav project page
I also have a couple other things for my weekly show-and-tell! 🙂
This beautiful new yarn has made it's way to my stash. I was a good girl and did not buy this myself. My niece was living in Scotland over the spring semester and at the end of her term there, my sister-in-law (her mother) flew over to join her and they did a bit of traveling together in the EU before flying home. We kept missing each other this summer, so she decided to mail the items they picked up for us. In the package that arrived last week was: a rock from Voss, Norway (where their family is from), a Norwegian troll magnet for Papa, and two skeins of yarn for Mama with the hint maybe I should make something for Little Chick with them. They are so soft and lovely – I can't wait to work with them. (Again, I'm being a good girl and holding off until a few other projects are finished). My other show-and-tell item is this lovely set of of fat quarters from
Sew Modern Online that also arrived in the mail this week.
The fabric is called Nordika by Jeni Baker.  I won this a couple of weeks ago in a Sew, Mama, Sew! giveaway.  I'm not sure what I'll do with them, but there are some beautiful patterns and colors in that stack!
What's new in your world?