In addition to the Homemade Caramels that I must make for Christmas each year, some family members are disappointed if I don't also make truffles. My husband and I have gone through quite a few experiments in making these – from hand-dipping, trying different molds, and each year we learn more and get better and faster at it.
Have you ever seen these molds?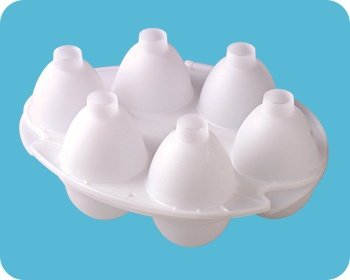 image courtesy of Kraft Foods Corner Store
They are actually Jell-O molds we've had for years … but I don't think I've ever used them for Jell-O.
Deep Truffle Chocolate Mold
The recipe is simple, and the assembly can be "putzy" and messy, but it's worth it!
1/4 cup whipping cream
6 oz chocolate, chopped (or chips)
2 Tbsp butter
1 Tbsp flavoring
Candy coating, melted – optional
Place whipping cream in a small pan. Heat just until it starts to boil, stirring constantly so it doesn't scorch. Remove from heat and immediately stir in the chocolate and butter. The heat from the cream should be enough to melt the chocolate and butter. If it cools down too fast, you can warm it again – but be careful you don't cause the chocolate to seize.
Add the flavoring of your choice and stir to incorporate. Cover the surface of the truffle mixture with plastic wrap and refrigerate until it has hardened.
Now comes the fun and messy part! Scoop out a tablespoon or so of the truffle mixture, roll in between your hands to smooth it out, and then dip in melted candy coating.  You need to work quickly as the chocolate will start to soften from the heat of your hands.
You could also roll the ball in cocoa, powdered sugar flavored with coffee grounds, or anything that will prevent it from sticking to fingers and storage containers.
If you have truffle molds you can coat the edges with melted candy coating and let sit to harden (see pictures).  Then fill the insides with truffle mixture and refrigerate to harden.  Fill the bottoms with another layer of candy coating, smoothing off for a flat surface, and let it harden before removing from the molds.
Adding nuts and other decorations can help distinguish the flavors later.
Changing the coatings and flavors can give you a wide array of different truffles.  Let your imagination run wild!   Here are some variations I've tried:
Amaretto – with an almond and chocolate coating (above)
Kahlua – with chocolate-covered coffee beans and chocolate coating OR rolled in a cocoa / coffee ground mixture (above)
"plain" chocolate with vanilla flavoring (top picture)
Grand Marnier – with candied orange peel
Creme de Menthe with green coating (top picture).
Raspberry liqueur
We also have made "truffles" filled with a Homemade Caramel! (just make sure to take those out of the refrigerator before you attempt to eat them!!)