One of my blogger friends posted this week and commented how when blogs are quiet it's often because our lives are less than quiet. How true that is! We've had a couple of crazy weekends. I would have posted about them before today, but then we had an issue at work. The week before a co-worker wore this t-shirt, which everyone thought was hilarious.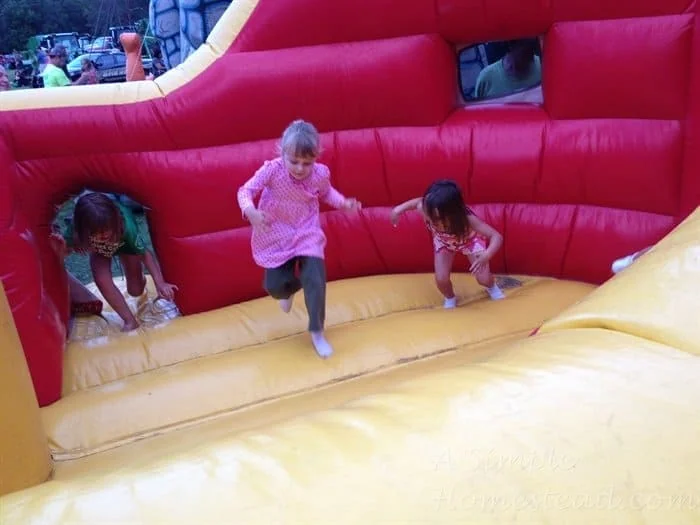 Someone in our dept  (NOT the wearer of this t-shirt) put a tiny change into place that affected our month-end closing in a BIG way.  It took 3 of us two full days to recover.  Yikes!  It wouldn't have been so bad just working late one night, but how tired I was as a result of the extra stress. Two weeks ago our county fair was in progress.  Ours is just a small county so they can't justify the cost of rides, but there's still plenty to do.  This year they offered a couple of bouncy houses.  The week before we couldn't get Little Chick to stay in one.  This time she didn't want to leave!

We only managed to get to the fair one Friday evening.  The next day (Saturday) was the annual picnic for my company.  They also had bounce houses as well as the fact that this was held at a local park.

Lots of running back and forth between the different objects to run, bounce, play, climb.  It was a hot and very humid/muggy day, but fortunately, the sun stayed behind the clouds most of the time.

Needless to say, Little Chick had a blast!  She was so busy she didn't even want to sit down and eat for 5-10 minutes!  Finally, I got her to take a break by bribing her with a bright blue raspberry sno-cone.  Which she then wore … on her face and dress!

If that didn't make for a busy enough weekend, the next day we drove to visit with my aunt and uncle, and my parents were there too.  Little Chick was a bit shy at first but she was running around and giggling by the time we left.  We got a nice picture of our three generations.

We had a couple of days of normalcy before we packed up and headed out for our annual camping trip.  We go every year with friends of ours – some of which we only get to see a couple of times a year now.  The first day was beautiful weather except for 30 minutes of this:

It poured BUCKETS! But that much rain in a short amount of time means you get fun puddles to splash around in!

Just a short burst of heavy rain and then the sun was out again … and the guys were back to either fishing or trying to beat Papa in cribbage.

There was a chance of rain off-and-on all weekend, but that was our last shower thankfully.
Our daughter had a great time fishing or "fishing" – as in this picture.  Unless Papa was around to help her manage the worms or to monitor where the hook was swinging, she was able to pretend to fish with an empty line.

She did manage to catch a few itty bitty fish. Most weren't even big enough to be used as bait for the guys to try and catch bigger fish. She was reluctant to touch her fishies … but then she also said she didn't want to eat them. I'm not sure where she got the idea that she would have to.

In numbers, she did better than the guys. Only our friend Mike caught a muskie and that was the morning of our last day out!

A couple of weeks of busyness tired out Mama and Papa … but also Finley and Little Chick. It was good to get home.
Does anyone have summer vacations left (or winter vacations if you're on the other end of the world)?