It's so hard to believe that 2014 is at an end already.  The last 6 months have gone by in such a blur I've hardly had time to register it in my brain.
Do you remember back to January when I said my one goal for the year was to be more purposeful?  Yeah.  I could definitely have done better there.  Especially the last several months.  I've had to give up a lot of my giveaway searching and entries but even so the days just don't seem long enough to work full-time, clean house, spend quality time with the family, and indulge in crafting.  I'm going to stick with that same word for 2015 since it seems to be one area I need to improve on.
Family Life
During this fast-flowing year, our little one has gone from age 3 to age 4. She's quite the Princess now and we can see her unique personality coming through. She amazes us constantly.
Little Chick and I took our annual trip to Florida in February and left Papa home with Finley and the chickens.  We went on hikes, visited the apple orchard, went on picnics and to playgrounds, the Threshing Bee, and even squeezed in a camping trip.
Fitness
My fitness goal for this year was to (again) lose 10-12 pounds.  Why again?  Well, I had gained some weight back by last December but that trend, unfortunately, continued … all the way until May when I reached my high weight for this year – almost as high as 2013!  I'm blaming the combination of an insanely cold winter, lack of motivation, and perhaps even a bit of depression from losing so many family members the last few years.  I don't know if I could say that anyone thing really kick-started me once May rolled around, but I did start to make progress.  I actually dropped down to one of my first goal weights (more than 12 lbs) early in November but a combination of lack of exercise and holiday treats has raised it a little again.  I'm still within that 10 lb limit though.  Yippee!
Running my first 5K was on the radar for 2014.  Because of the nasty late winter we had, I didn't get out to practice so my friend Kristi and I ended up walking most of the early-May 5K we had signed up for.  That's ok – we still had fun.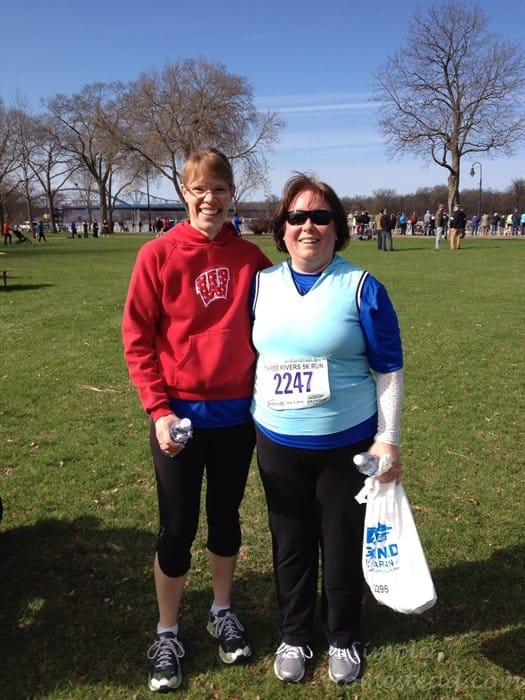 I also kept on my goals to eliminate Pepsi from my diet. I've tried that one before and it's worked for a short time and then I get addicted again. This time, I seem to have kicked the habit for good. In fact, the few times I've tried it this fall/winter, it doesn't taste even taste good.
My fitness stats for the year:
3138 minutes of activity (52 hours; that means only an average of 1 hour per week 🙁 !!)
149 miles of walking (very little running this year)
1,537,678 steps logged on my Fitbit (avg 4576 per day)
Blogging
I didn't post about this but I did set some blog goals for myself, mainly so I would get reminded to post on a regular basis.
Write 120+ blog posts … I did 85
24 should be recipe posts … I did 9.
12 should be DIY/homesteading posts …I managed to get 13, but after doing that series on chickens it wasn't too hard.
Next year I hope to meet these goals. I have plenty of recipes and pictures to post, I just need to take time to write them.
Homesteading
This year we learned to make homemade cheese and yogurt. I could see making at least one wheel of cheese each month – and then enjoying it a few months later. We still haven't tried the cheddar although that's getting close to ready. The few batches of Colby have turned out wonderfully.
We acquired more chickens – some free and some purchased. They started laying in late summer to help our older chickens. We lost Opal (link) and a few others – some just a couple of months ago to a local fox (who died of lead poisoning a week later). We have 13 chickens left but are only getting 1-2 eggs per day if that. Good thing we froze some of our summer abundance for baking Christmas goodies!
We preserved strawberries, wild black raspberries, blueberries, pears, peaches, apples – including home-pressed apple cider and hard cider. Our garden seemed rather modest this year but we did have an excellent crop of carrots (no thanks to a couple of little snitchers named Finley and Little Chick!)
Papa has been perfecting his makin' bacon technique and learned to make homemade breakfast sausage too. I sucked him into my fiber world and was thrilled when he made me a yarn swift to use with my ball winder.  He says he plans to try making a spinning wheel too but that is slow going.
Recipes
Among the recipes shared with you this year (clockwise from upper left):
Homemade vanilla wafers, Game day potstickers, Mint dazzler, Quiche
Caramel custard, Potato rolls, Grape Juice, Spinach pasta dough
Not pictured: Venison stew
Crafts
I had a very productive crafting year.
Lots of hats (11) and afghan squares (I lost count); 3 cowls, a stash of jewelry and stitch markers, and the Ariel costume.  I worked on my sewing skills by trying quilt blocks and even delved into garments by making myself a shirt.  I made a couple of sweaters and dresses for Little Chick … however from now on I guess I need to stick with pink; or don't make anything until she outgrows the "pink is my flavorite color" determination.
Probably my favorite part of crafting this year was the designing part. I participated in the Designer's Challenge group on Ravelry several times. It really challenged me to try ideas and techniques I hadn't before. I made a spring cardigan for my daughter, a cowl, a shawl idea that didn't work, a Bobble bag, a mock cable hat for babies. I'm still working on a harvest/leaf tote design and a vest idea which needs a lot of reworking. There are others that are just rough notes that need to be worked up further. I even managed to get one pattern, Snowflakes in June, published this year.
Overall, I think 2014 was a wonderful year. I'm looking forward to an even better 2015!