This week I came up with a grand plan to make a felted wool bag for a swap I signed up for. The plan was to make a tartan-style bag. I don't have many colors in 100% wool that I could use for felting, but … I have over 15 skeins of Kurth Fiber mill wool that could easily be dyed!! Sounded like a fun activity.
In theory.
Keep in mind, I am a complete newbie (noob?) when it comes to dyeing. I've only dyed yarn once for a friend's hat and I just used food color. However, that attempt turned out exactly as I had hoped, so this time I wanted to give natural dyes a chance.
Late last week I read a few blogs and came up with a plan. I also read some posts about the certain dyes I was going to try not always working. I guess I should have paid attention.
Now, I wrote down all the steps I did – so if anyone has experience in these matters and wants to point out what all I did wrong, I'm listening!
I started off with 10 cups of water and 2 1/2 cups of vinegar – a 4:1 ratio, for my prep. I simmered this with the yarn for an hour hoping the vinegar would make the wool more receptive to the dye. When finished, the vinegar seemed to have dyed the yarn!
Question 1: So was it too much vinegar? That sure seemed like a lot. Should I have used white vinegar instead of apple cider? (we have an "unlimited" supply of ACV so I really want to use that)
Despite my concerns at this point, I still pushed on….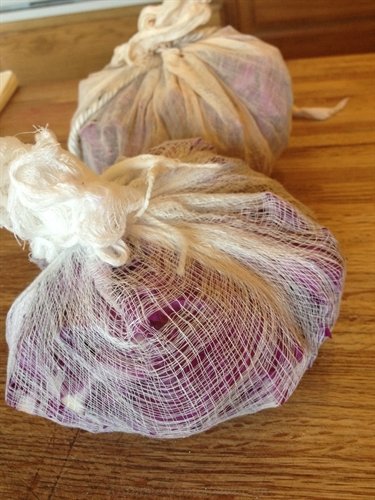 While the yarn was draining from the first step, I chopped up a head of red cabbage and placed it into two cheesecloths for easier retrieval – no "fishing" for cabbage pieces. I then started water boiling and placed one package in each pot and started them up.
It seemed like I had a beautiful blue color to work with, so the heat was turned down and I placed the yarn in.
Question 2: Should I have let the water boiling longer with the cabbage? Should I have used a whole head for one dye bath?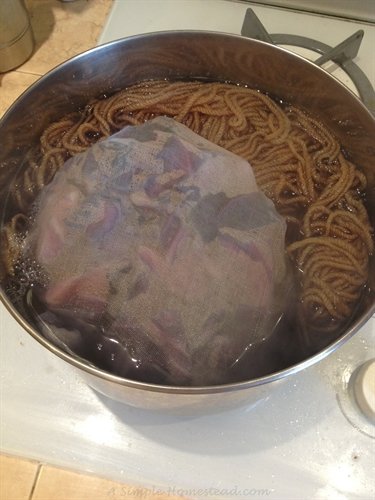 30 minutes later and the yarn looks a tad darker but not the lovely blue I was hoping for.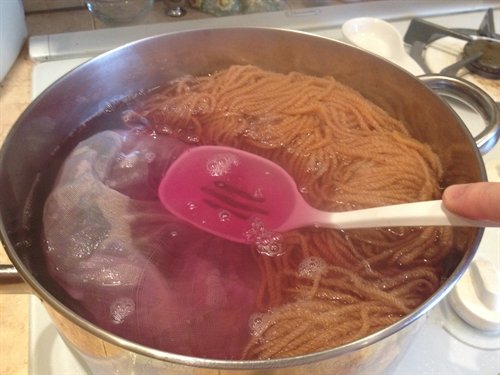 So we went for fun science. I added some vinegar to the pot and watched the liquid turn to a beautiful shade of bright pink / magenta.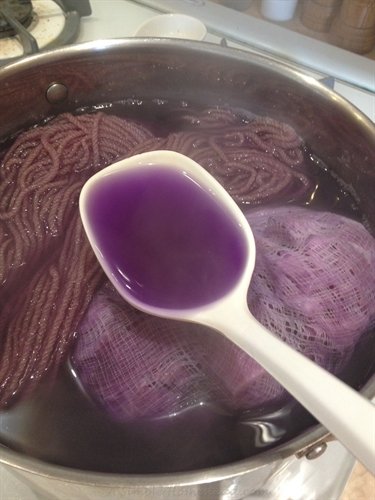 The other pot had already changed color. I added alum (potassium aluminum sulfate – found in the spice aisle) (10% of the weight of the yarn – so I added 10g for my 100g skein) and the liquid turned a gorgeous purple color. At this point I was excited!!
An hour later … still not much change in either of the wool pots. The purple was slightly darker, but not by much. I was horribly disappointed.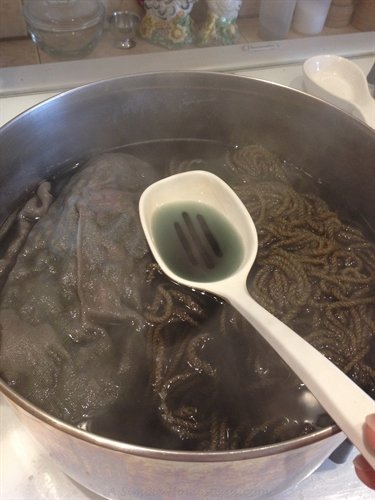 Back to science. Papa suggested we go the other route with the magenta pot and add baking soda to make the liquid alkaline. Why not … I mean, we have nothing to lose at this point! Besides, it's a lot of fun to add tablespoons of baking soda to a pot filled with acid (vinegar) … you just have to do it slowly so there isn't a huge mess to clean up LOL. We let Little Chick do the honors for this so she could watch the fizzing.
Question 3: Should we have kept going and let the yarn soak / cool in the dye for a day or two? I know I can be impatient when it comes to things like this…
According to the picture, it looks like the yarn is finally changing color, right? Wrong.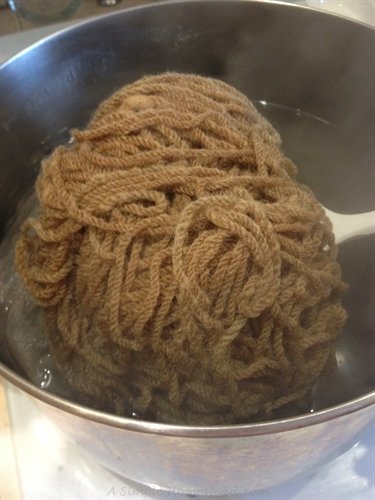 At this point, I'd been playing with dyeing for several hours and was fed up. So Little Chick helped me add food coloring to the pots, just so we'd have something other than an ugly brownish color.
Instead we have an oddly colored pink, er grey, um … whatever colors those are, along with an olive green / brownish skein. Did I mention olive green is one of my least favorite colors?
I'd say this experiment was pretty much a complete failure – except we did have fun seeing the different colors red cabbage water will turn depending on the pH level of the liquid! We even tried dyeing a small white t-shirt because Little Chick loved that purple color. Alas, in looking this morning, it too did not take the dye well at all.
Now, dear reader, do not suppose that these skeins are "lost" to be donated somewhere. I had a plan all along in case this did not go well. You see, Papa wants some new wool hunting socks. This Aran weight yarn means they should knit up quickly and I think these colors would make nice additions as toe, heel and cuff accents. Don't you?
I'm also not giving up on natural dyeing. In fact, I have a dye bath prepping at home right now and may attempt trial #2 tonight! This time I plan to skip the vinegar pre-soak and just use plain water. Wish me luck!