It's been crazy, crazy, crazy around here. We've been gone several weekends recently and it's made for hectic weeks in between. I'm looking forward to a "normal" week again.
A couple of weeks ago, Little Chick and I stopped off at the farmer's market at the town square on Saturday morning.  We picked up some peas (she wanted to pay for them with "monies").  We also went to the local co-op and bought some fresh cream.  This is the real stuff baby!  It's pasteurized (don't get me started on the raw milk laws in this state!) but it's non-homogenized.   This means if you let it sit long enough a thick layer floats to the top.
I was going to make ice cream but didn't get to it before the craziness started.  So, here I was with a full quart of real cream sitting in the refrigerator, a week past its "best by" date.  I didn't dare let it get any older.
Looking back, I can't believe I haven't blogged about making ice cream in over three years.  My previous post would lead you to believe that I failed, and never tried again.  But that's not the case.  I've made LOTS of ice cream since then.  Most have been vanilla ice cream – it goes with everything and it happens to be my favorite.  I did switch to a new recipe – one I got from The Everything Ice Cream, Gelato, and Frozen Desserts Cookbook
book I won in 2012.  I just keep using the Simple Vanilla recipe because I don't need to mess with eggs, and I'm still able to play with flavors.  I've also done chocolate, bing cherry, mint and now coffee ice cream just to name a few!  Some have been more successful than others due to low or high butterfat content, too large fruit (did you know cherries freeze HARD?), but I haven't tossed any out – not since 2010.
Ice cream can be so easy – you mix cream and milk and a little sweetening agent like sugar and a little flavoring. Get the cream warm enough just to melt the sugar and then cool for several hours. Pop it into an ice cream maker and let the machine do the work for you! Yum!
For this experiment, I had to guess on the coffee ice cream measurements because I wanted plenty of coffee flavor. I think I did ok (I haven't had a chance to try other than a little taste). I also tied up a little packet of coffee in a filter and let that steep in the cooling mixture to give it a little extra flavor.
Unfortunately, making this ice cream still left me with a full pint of cream left over that needed to be used up ASAP. I started to make whipping cream to go with a dessert my husband made, but the age of the cream gave it just enough funk, I knew that wasn't going to work. Then I remembered that over-whipped whipping cream = BUTTER! Hey! I could do that.
Now don't get me wrong. I think homemade butter tastes great and sometimes I wonder about the ingredients and butterfat content of cheap butter. Even so, I wouldn't normally buy cream to make my own butter. Unless you have your own cow, it's expensive! But I had the cream on hand, and it had to be used.
If you Google "homemade butter" you'll find all sorts of recipes, ideas, and tips. I primarily used the one from Joy the Baker.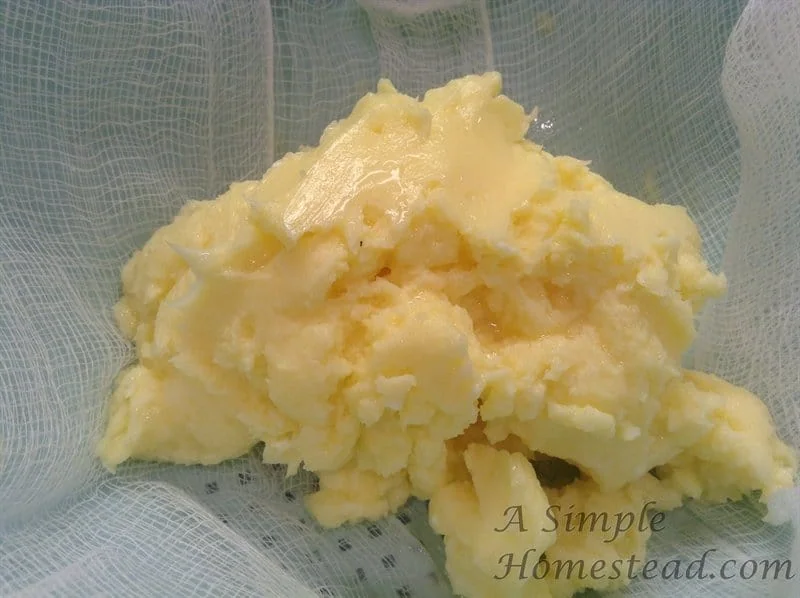 Even a full pint of cream doesn't give you a lot of butter, however it is still a wonderful treat!