Are you starting to panic about what to get everyone for Christmas? I have some suggestions for you!
I don't consider myself a fast knitter, but I can usually make a hat or headband in under two hours. Some knit hat pattern ideas include the Hearts Aplenty Hat – there are also matching mittens if you knit fast!, Calamari Hat and Crevices Hat. For the sports fan, you can make up a Team Headband.
If you have some cotton on hand, make up a group of these (free pattern!) Diagonal Stripe Washcloths or Sick of Winter washcloths – tied up with a ribbon they make a great gift!
Prefer to crochet? There's the Simple Summer Hat (but could be for winter too – especially if made in wool instead of cotton), Snowflakes in June (free pattern!) and the Sock-it-to-me Headband.
Not a knitter or crocheter? How about some baked goodies?! We love giving things like this to our neighbors, the postal carrier, etc. Some that might take a bit of time to make are the Cream Cheese Cutout Cookies (since they need to bake and then be frosted) or the extremely popular Homemade Caramels and Chocolate Truffles (no picture). Colorful popcorn would be a hit with the kiddies, young and old! I personally would love a jar or two of marshmallow fluff under the tree (it's mine! I'm not sharing!) And my family loves the Norwegian Kringle, which is like a soft, slightly sweet pretzel.
Still not enough ideas?
Well, I have one more to share today and it's a quick one that should be ready in less than an hour, including chill-time!
This is another one of those fool-you recipes, because it's not "real" toffee, but it's just as addictive. I might say even more so! It's made with saltine crackers as a base, so unfortunately, it's not gluten free. But the great news is that you might even have the ingredients on hand!
For those not familiar with saltine crackers, they are a white, rather bland cracker here in the United States with a slight coating of salt on the top. They go great with soup. And as you can see, I bought the generic brand for this recipe – it really doesn't matter. Not with all that butter and sugar coating them!!
You will use less than two "sleeves" of the crackers. The recipe calls for 36+. I just fill up the pan until there is no more room. Last time I think I counted closer to 50-60 crackers. However, the butter/sugar mixture is ample to cover them all.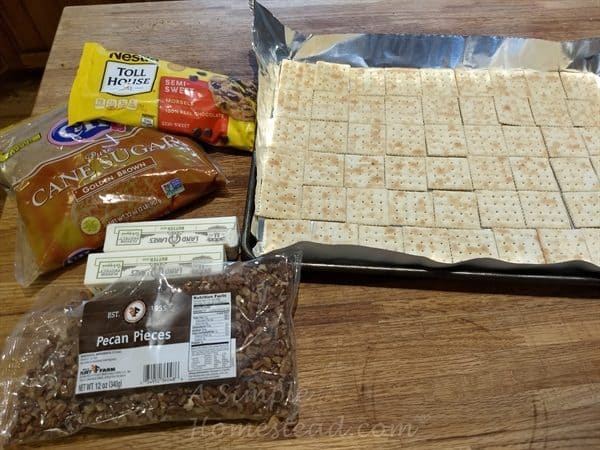 The original recipe said to coat the aluminum foil with butter but I've found that unnecessary. Again, because there is a full pound of butter already in this recipe!!
I love that this recipe just take 5 simple ingredients:
saltine crackers
butter
brown sugar
chocolate chips
pecans (or walnuts)
Once you have the crackers in place, you melt and boil the butter and sugar for a few minutes, pour over the crackers, bake for another 5 minutes, sprinkle with chocolate chips, wait for them to melt a bit, spread, and then sprinkle with nuts.
The hard part is waiting until this is cool to eat it!
AND THEN the hard part is Not Eating It All At Once. Seriously. This stuff is addictive. Hence the "crack" part of Christmas Crack (also because it snaps when you break it 🙂 )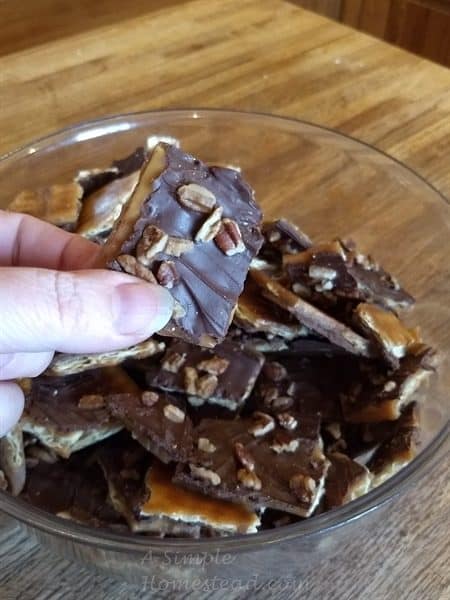 You can try and break it in even squares, following the lines of the cracker edges, but I usually try and break it into different sized chunks. Some people would rather eat a million small pieces and some like to feel like they are eating bigger portions.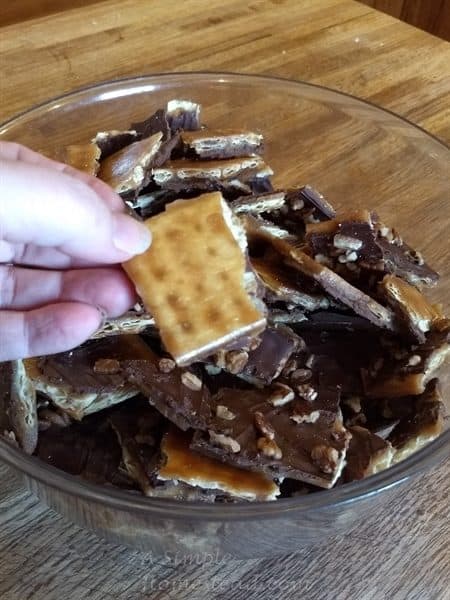 See how nicely the bottoms got coated even though we only poured the mixture on the top? That's what all the bubbling in the oven helped achieve.
Now, I've also see this recipe made with graham crackers with almonds, and I'm sure there are many more varieties floating around the internet, but this version is my ultimate favorite.
Enjoy! And a Merry Christmas to you!
Print Recipe
Fool's Toffee (aka Christmas Crack)
Ingredients
1

cup

2 sticks butter

1

cup

packed brown sugar

36

or more 2×2 inch saltine crackers

11.5

oz

chocolate chips

1/2

cup

chopped pecans or walnuts
Instructions
Preheat the oven to 375°F

Cover a 10×15-inch jelly roll pan with foil. Place a single layer of crackers on the pan, close together (I fill the pan rather than counting the number of crackers).

In a small saucepan over medium high heat, melt the butter and sugar, stirring constantly. Heat to boiling and boil for 4 minutes. Pour the mixture over the crackers, spreading to cover evenly.

Bake for 5 minutes. Remove from oven. Immediately shift crackers back into position with a fork, to a single layer again (some will have moved). Sprinkle the chocolate chips over the hot crackers. Allow to sit for a couple of minutes so the chocolate will soften and then spread the chocolate evenly. You can also return the pan to the oven (turned off) for a minute if the chips harden too quickly. Sprinkle evenly with chopped nuts.

Refrigerate to cool. Break into pieces. Store in refrigerator for 1-2 weeks (if it lasts that long!)