Almost two months ago my mother-in-law broke her hip. A couple of weeks ago she was released from rehab and is doing fine, but her children wanted to make sure someone was there with her for the first few weeks she was at home. So … off when my family to stay with her for a couple of day (and then bring her back). And when I say my family, I mean the WHOLE family: Papa, Little Chick and Finley all went and were gone from Mother's Day (Sunday) until the following Thursday. Four whole days all to myself with only the chickens for company. Let me tell you, it was awfully quiet in the house!
I took advantage of my uninterrupted alone time and tore apart my craft room. I had a friend comment and say I do that a lot, but the last time was 2 1/2 years ago … the last time Papa and Little Chick went to Grandma's without me. In that time, there has been a lot of dropping supplies off in the room and not taking the time to organize and time spent with Little Chick with not much clean-up time afterwards. It was beginning to look like a disaster.
Want a peek? This was my little sewing area. On the bookshelves I had fabric, kids craft supplies, books, etc … starting to spill over.
The big craft table where Little Chick and I made cards and she sometimes glued other things besides herself and the table … or dumped glitter.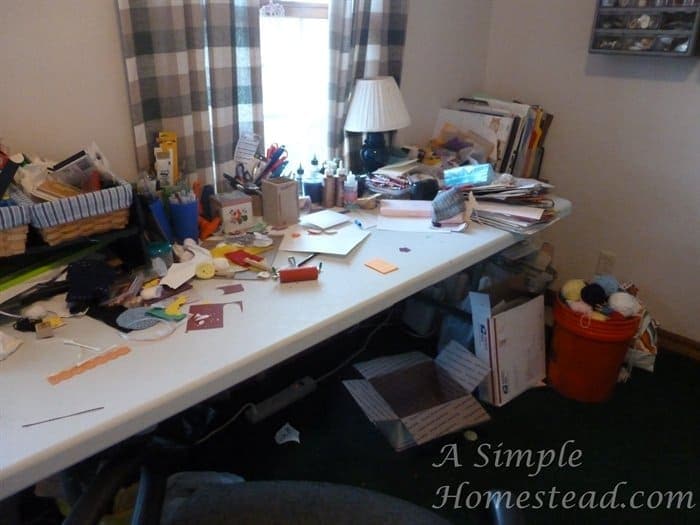 As you can see, we didn't do a good job of cleaning up from the last (dozen?) projects.
My yarn closet with yarn and thread piled up on the floor of the closet because the shelves are full.

And another supplies bookshelf that was full, a tray system for stamping supplies, and some boxes on the floor. The biggest box was fabric that I had ordered over a year ago and never got put away. *sigh*
All the great organizing tips suggest that you figure out what you have first before buying a single organizational tool, otherwise you might find the tool doesn't meet your needs or the items you are trying to organize.
So first I pull big items out of the room and began sorting what I had into groups. That makes an even bigger mess than before 🙂 I did spend a little money on the room, but it was < $40 worth.
I had asked Papa to build and install some shelves for me for a couple of years, but he hemmed and hawed by saying he was going to build me a craft room … in the basement, in the dining room, or wherever. So the first thing I went and purchased were some shelves. This shelf was the most important as it now keeps ink pads, glitter and other non-toddler items out of reach. I also spent a couple of dollars for a dowel and some hooks so the decorative scissors are now on display.
I switched the tables so the sewing area is now between the two East-facing windows and added a shelf for sewing tools. Not a great picture because this was taken at night (I was too excited when it was finished) but this will now be a great area to work during the day … if and when we ever have nap time again.
The long craft table is now on the back wall. It's not ideal as the table is too long for me to fully open the room door and/or the closet door, but it works. This spot is still a work-in-progress. Most of what is on the upper shelf is ribbon. I want to get some brackets so they can hang on the wall in full view and for easy access. This also might help remind me how many dozens of rolls I have (and not buy anymore)!
I even managed to hang some decorations on the wall – including one I whipped up using some scrap burlap, an old hoop and a cute button that says "Be Happy".
I created a shelf with all the supplies that Little Chick has free access too – crayons, felt, construction paper, and other misc supplies. Granted, she can reach the other shelves too but I'm not sure they'd be as much of interest to her.
I ended up with a box-full of books and pamphlets that I'm going to sell at a rummage sale this summer. A lot of miscellaneous craft ideas and cross stitch. I haven't done xstitch in years and as for the misc ones – it's much easier to look for ideas on blogs and Pinterest than to remember those folders and binders.
Are you sharp enough to realize there's something missing? No after-photos of the yarn closet. I did pull out a few skeins of yarn I plan to get rid of and organized a little bit so I had room to store some fabric stash in there. But in general, it's still rather a mess. As long as the closet door is able to close, then I can't see the hideousness :-).
I'd love to hear your opinion – what do you think of my "new" craft room? Any tips as to better organize parts of it?