This recipe for Chocolate Stained Glass couldn't be easier. I've seen this confection also called Church Windows or Cathedral Windows Candy, Marshmallow Yule Log, or simply Stained Glass Candy. But is this considered a dessert? A cookie? Candy? I'll let you decide!
Disclaimer: The links below may be affiliate links. If you purchase any products after clicking on these links, at no additional cost to you, A Simple Homestead will receive a small commission for making you aware of these important resources.
With so many holiday events this seasons it's easy to forget one. Suddenly it's 8pm at your daughter reminds you that she needs treats for her classroom the next day. Or you've been so busy wrapping gifts that suddenly you realize you need a gift for a neighbor, your pastor or your child's favorite babysitter. What are you going to do?! Make Chocolate Stained Glass!!
All you need for this treat are three simple ingredients!
one stick (1/2 cup) salted butter
one 10 oz bag colored marshmallows – I use Kraft Jet-Puffed marshmallows. These are not only colored but slightly flavored! I'm normally not a fan of the fruity marshmallows, but in Chocolate Stained Glass, these marshmallows give an extra special twist. But color is most important for the effect!
Steps to make Chocolate Stained Glass
The steps to make this treat are super-easy too!
Step 1. Melt the chocolate and butter together. You can do this either in a microwave in 30 second bursts at high power, stirring at each interval. Or you can melt in a saucepan, but you need to watch it carefully and place the pan over low heat so you don't cause the chocolate to seize.
Step 2. Stir in the entire bag of marshmallows. If your chocolate is quite hot, it may be a good idea to let the chocolate mixture sit for a couple of minutes so you don't melt the marshmallows. The Chocolate Stained Glass doesn't look like much yet, but wait… The "magic" will appear later!
Step 3. Scoop the Chocolate Stained Glass mixture onto wax paper or plastic cling wrap and form a log.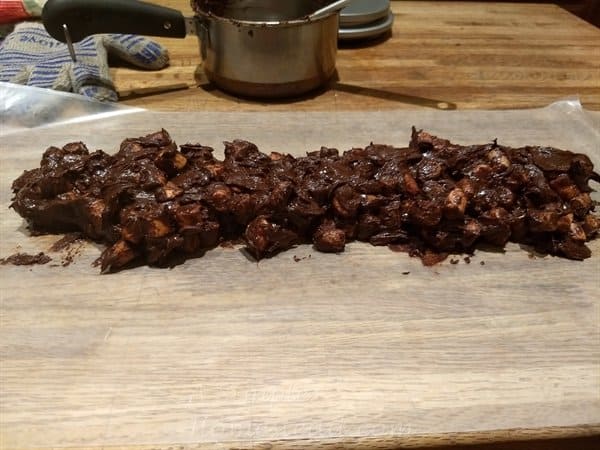 Step 4. Roll the wax paper (or plastic wrap) around the chocolate, pressing lightly to reduce the air holes and make the mixture tighter. Then roll up the ends tightly to compress the log.
Step 5. Place the log in the refrigerator for an hour or more and clean up! 🙂 (Mom was BUSTED!! And yes, I did lick the saucepan…)
Serving
Once the log has hardened, unroll the wax paper or plastic wrap and cut the log into 1/2″ (inch) wide pieces.
Did you notice that these Chocolate Stained Glass logs look all uneven and bumpy? It doesn't matter! Not when you see them cut!
Note: this dessert / cookie / candy should be kept in the refrigerator until serving time. At room temperature, they get soft and semi-melted.
Chocolate Stained Glass is a HUGE hit with the kids (young and old). Little Chick brought this as a treat for her birthday last year – and her classmates asked for a repeat of the same again this year!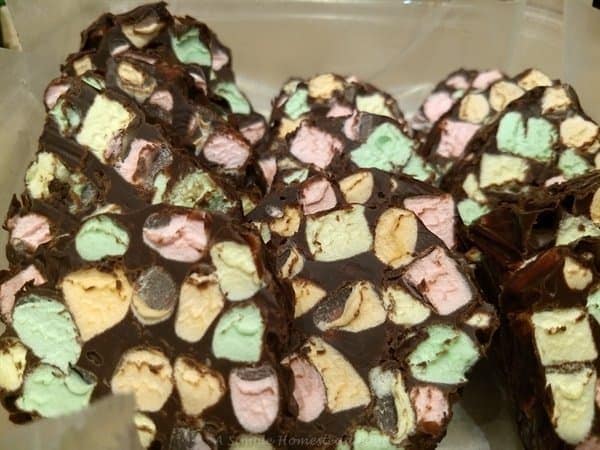 Chocolate Stained Glass would be a wonderful addition to your treats any time of the year, not just at Christmas. Those pastel colors would look perfect at Easter time or other spring celebrations – if you need a break from lemon desserts or all those eggs! 🙂