I want to keep my Halloween costume a surprise for a day longer :-), so rather than a finished project this week, I want to tell you about a product you may not have heard of.
I had purchased some Clover Wonder Clips for my friends last year when I made them their pincushions; they made bright, colorful additions to the jars. I had read quite a few blogs that raved about them, but they were all sewing blogs. So, I bought a big pack, divided them, kept a few for myself (because you can't divide 50 by 3 evenly!) and forgot about them.
However, when I was going to sew my Trinity Cabled Pillow panels together I realized it would much easier if I could pin them so they wouldn't shift and move while I was sewing.
Pinning knitted fabric is a pain (sometimes literally). Then I remembered these clips. I didn't have enough on hand so I ended up buying another set for myself. My local Walmart carries them but I'm sure any fabric store would also have them.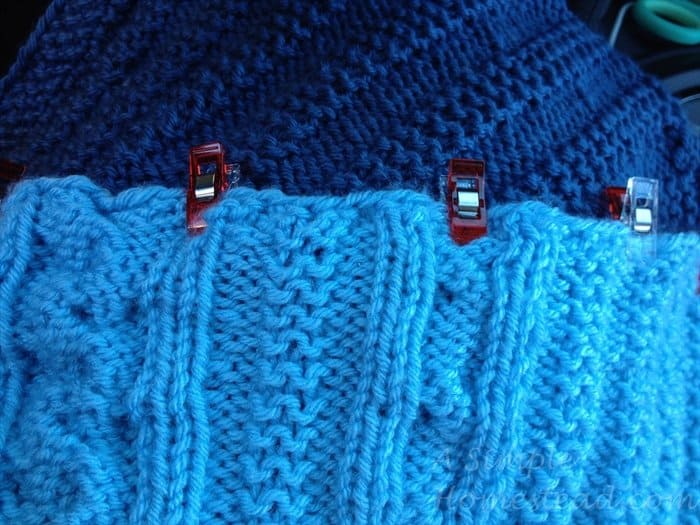 They worked so great! So much easier than trying to use sewing pins on the knitted panels and they are so quick to place and remove as you are working.
I liked them so much, I'm going to offer a 10-pack of these clips as a giveaway!
To enter, just add your contact information and comment below with an answer to the question: "How would you use these clips?" There are no wrong answers; I'm looking for some additional ideas.
Click here if entry form doesn't appear.

NO PURCHASE NECESSARY TO ENTER OR WIN THIS GIVEAWAY.
A Simple Homestead is the sponsor of this giveaway. Amazon® is in no way associated nor is endorsing this giveaway. Giveaway is open to open to anyone in the world who is at least eighteen (18) years of age or older as of October 30, 2015. Giveaway begins at 5:00 PM Central Time ("CT") on 10/30/15 and ends at 4:59 PM CT on 11/13/15. Void where prohibited. The winner will be chosen by a random number generator and contacted through email. The chosen winner will have 48 hours to respond or a new winner may be chosen.
Disclaimer: This is not a paid advertisement. I purchased these myself and have not been compensated. However, there are affiliate links in this post.