Let me start off by saying these sourdough crackers are amazing! Over this past year, I have played with a variety of sourdough recipes and although bread is wonderful, sometimes you want something different. Sourdough crackers certainly fit that requirement. I will say that the first time I tried these I was less than impressed. I almost tossed the recipe. But something made me come back and give it a try again.
Thickness matters
Part of the reason we didn't care for them had to do with how they were created. Can you see in the photo how thick they were? The original recipe said to roll out to 1/4″ thick. But I don't know of many store-bought crackers that are that thick. Plus, when these bake, they puff up a little bit. So they were more biscuit-like and definitely not crispy.
I couldn't bake them longer as the edges were starting to turn brown. Plus, I can't explain how difficult it was to try and roll the stiff, chilled dough into an even thickness. Along came my creative-ideas husband: "why don't you use the pasta machine?"
BRILLIANT! That made all the difference in the world!!
Our pasta maker is a simple hand-crank version, but it has 7 different settings for thickness. I've used it a few times and we enjoy hand-made pasta like the Spinach Pasta recipe I made several years ago. (Side note: I also have a separate, simpler "pasta machine" that I use exclusively for rolling out polymer clay. But I never use the food version for polymer or vice versa! )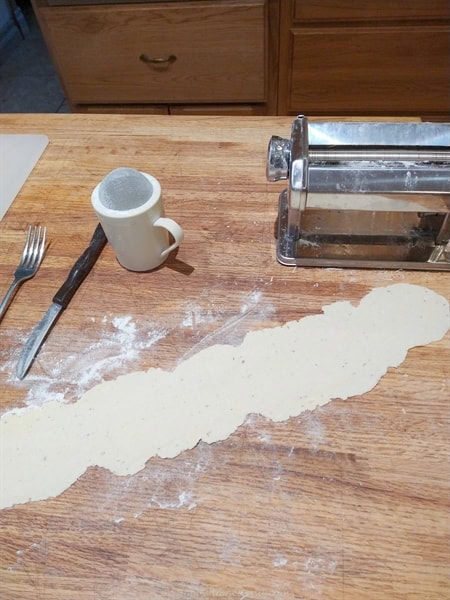 To roll using the pasta maker, I tear off a small chunk and pat it down to around the 1/4″ thickness. The dough gets lightly dusted with flour before I put it in the pasta roller to help eliminate stickiness. I start off with the highest setting (#7) and then drop the machine down to half that (#4) before running the dough through again. I only use the two levels as I worried, if I worked the dough through all those in between (6-5-4), it might make the dough tough and chewy.
Uneven edges
In my opinion, these are supposed to be rustic sourdough crackers, so I don't mind the uneven edges on many of the crackers. If you prefer life to be more orderly, you can trim off the edges and re-roll them, but be mindful of the amount of flour you add each time so the sourdough crackers don't get too dry.In one of my trial runs, I took the freshly-pressed dough and placed it directly on the pan before I finished with the oil and salt and cut the shapes. However, I quickly realized that I would have to pick up each piece anyway so they weren't touching during the baking process. So I've learned to roll, place on the countertop, brush with oil, sprinkle with salt, cut into shapes and then move to the pan.
This last time I made the sourdough crackers, I decided to get a bit fancier. I remembered we had a crinkle cutter that would make cute wavy edges! I actually have my eye on this set of cutters; they have the waves to the edge instead of flat/straight edges.
Other tools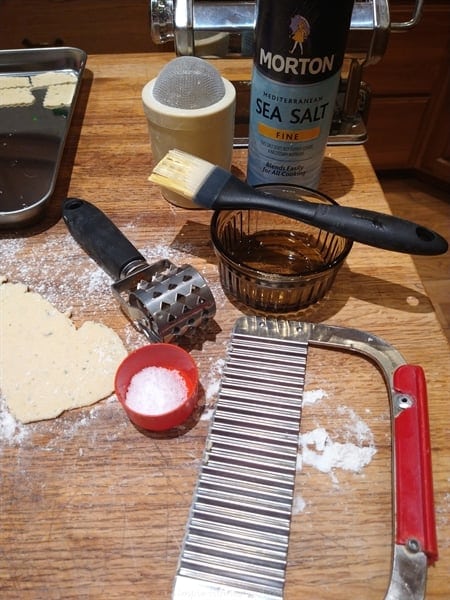 Truthfully, you don't need much to make these crackers. The pasta machine really helps, but you could probably make this with just a rolling pin as long as you make the dough as thin as possible without tearing.
A flour duster helps with lightly dusting the dough and countertop with flour without getting too much. Adding more flour than is needed can toughen up the dough.
The recipe calls for brushing the crackers with olive oil and sprinkling with sea salt. The light oil coating helps crisp up the crackers without making them greasy. It's easier to pour some oil into a small bowl and then use a brush. We have too – one being the silicone brush shown above, but I prefer the natural bristle version.
Another great idea I had this last time was to use a meat tenderizer roller to poke holes into the dough. It made much smaller holes than a fork does. I prefer the fork-sized holes, but the roller makes it so much easier!
Flavors
Lesson #2 was all about flavors. It's very easy to adjust the sourdough cracker recipe to include your favorite herbs and spices. I personally like garlic and Italian herbs. Papa wanted me to give this a try using one of those ranch flavor packets with chicken bouillon – he was hoping to get something similar to Chicken in a Biskit crackers. They've all be delicious and I can wait to try even more. I've also considered looking for cheese powder to see how cheese-flavored crackers would taste.
You could probably incorporate real cheese into the crackers, but I would make sure the cheese pieces are very tiny – perhaps run through a food processor. Another mistake I made when first trying these was to use almost entirely wheat flour. I'm still working on getting my family adjusted to less all-purpose white flour. We're not there yet, but even I felt that these weren't as good with the wheat flour. Next time I might try with 1/4 wheat.
Another great opportunity to infuse the crackers with additional flavor would be when brushing with oil or adding salt. You could try using seasoned salts or flavored oils.
Baking
I quickly learned that what you bake on matters a great deal! The make it comparable, I have used parchment paper each time I've baked. The first couple of times I used some old, heavy, steel pans that almost require the use of parchment paper. Recently I ordered some new pans. I mistakenly ended up with one aluminum pan. It's still a heavier gauge, but I did notice that the crackers didn't brown as nicely on it. It also took a lot longer to get the crackers to begin to brown on the edges. I would experiment with different baking pans and trays to see what works best for you.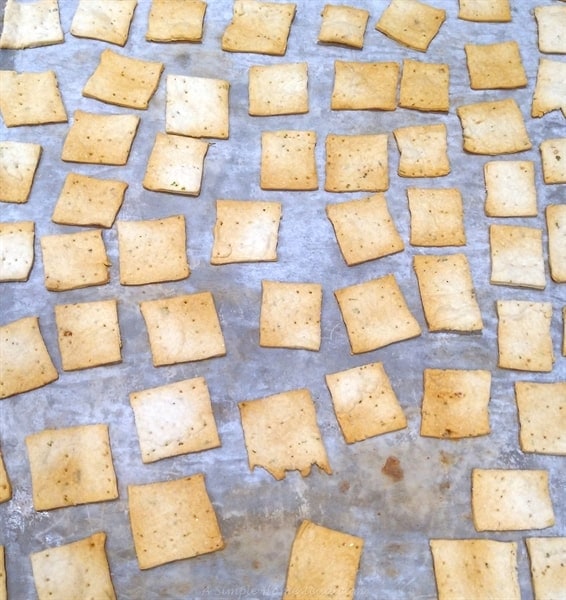 I can also tell you that using a silicone mat did NOT work. I thought I had read somewhere that the mat would help pull moisture, but those crackers took over 20 minutes to bake and they still didn't get very brown.
A parchment paper trick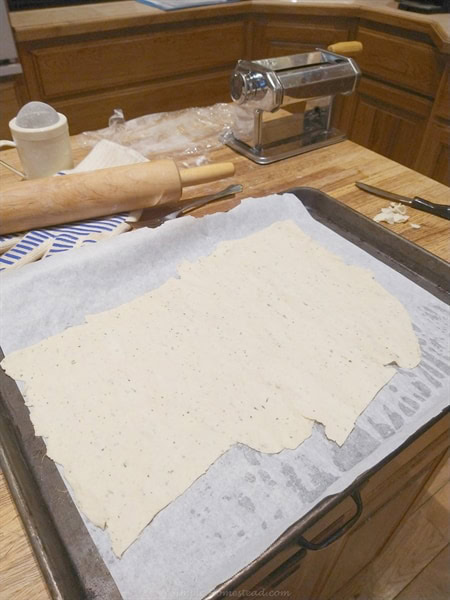 I'm not sure where I discovered this trick, but it has made a world of difference! If you use parchment paper regularly, you know how difficult it can be to get the paper to lay flat in the pan – especially if you need it to extend up the sides (as in the case of my Homemade Caramels). Use a clean spray bottle with plain tap water and lightly spray the pan first before placing the parchment paper over the top. The water makes the paper stick so it doesn't slide around. Amazing!!
I want ideas!
I feel like we've only scratched the surface on the flavor varieties that we could try. What would you choose? Comment below with your choices – I'd love to give them a try!
Print Recipe
Sourdough Crackers
Servings:
10
servings (10 crackers)
Ingredients
1.25

cup

all-purpose flour

1

cup

sourdough discard

4

Tbsp

butter, room temperature/softened

1.5

tsp

Better than Boullon chicken base*

https://amzn.to/3gY4lCt

1.5

tsp

Hidden Valley Ranch seasoning mix*

.25

cup

warm water

olive oil for brushing

coarse salt, such as sea salt or kosher salt
Instructions
Mix the chicken bouillon and ranch mix into the warm water until thoroughly blended.

Mix the flour, sourdough, and butter together with the bouillon and ranch mixture, until you have a smooth, non-sticky dough.

Shape into a ball and flatten slightly. Wrap in plastic wrap and refrigerate for at least 30 minutes, or overnight.

Preheat the oven to 350ºF

Lightly dust your work surface with flour. Separate out 1/3 to 1/4 of the dough and flatten until it will fit nicely into your pasta maker. Roll approximately to 1/16" thickness.

Prick with a fork or other sharp utensil. Brush with oil and sprinkle with the salt. Cut into shapes.

Transfer to a parchment paper-lined baking sheet.

Bake for 12-15 minutes, until the edges start to brown. You may need to rotate the pan halfway through baking.

Transfer to a cooling rack. After fully cooled, store in an airtight container. These are best if eaten within a few days.
Notes
* Instead of using chicken bouillion and ranch dressing, try experimenting with up to 2 Tbsp of dried herbs.