A week ago Friday, I suddenly had a spurt of ambition (it doesn't happen often) and stopped at a couple of places to pick up produce before heading home after work. (I meant to write sooner, but we've been down-in-the-dumps, daughter-picked-up-a-stinkin'-virus sick. All of us. Finally on the mend.)
First stop was to pick up a case of peaches. Papa had already processed one case of Elberta peaches a month ago; they make great canning peaches so he canned a few quart jars and made some peach jam. I've been bummed that I missed out on blueberry season this year, so I really wanted to get my fill of eating fresh peaches. I was fortunate the place I shopped at had Colorado peaches. As you can see we went right to work eating them :-). They were delicious – and perfectly ripe!
My second reason for buying peaches was to freeze some in slices and chunks that I could add to yogurt in the winter months. The peaches in big-name peach yogurt just taste "off" to me. I used this as an experiment too. Some I froze with Ball Fruit-Fresh
sprinkled on the fruit, some just went in the containers with only the water/Fruit Fresh mixture we used to hold the peaches post-blanching / pre-cutting. And a third set I poured orange juice over the peaches – because that's what Mom said she used to do (although I don't remember this). We'll see how they turn out!
Output: Seven 2-cup containers of peaches, full tummies and some sugared peaches to go over ice cream.
My second stop on the way home was to pick up two dozen ears of corn. There's a local family that has a roadside pick-up truck filled with them and we buy every year. But it's been a few years since we bought some to freeze. I knew we didn't have much planned on the weekend so this was a good time to do it.
Here's your corn trivia of the day. Did you know that each piece of corn silk comes down to an individual kernel of corn? When you see cobs like the knobby one on the bottom, it means that for some reason not all the strands of silk got pollinated. The other kernels have room to expand and so you get all sorts of odd shapes and sizes. (True? I haven't verified, but that's what Papa the walking encyclopedia says LOL)
When I called Mom about freezing peaches and mentioned we were freezing corn too, she gave me this handy tip. Use an angel food cake pan! The tip of the corn fits in the center to help stabilize it, and as you cut the kernels fall into the sides of the pan for little mess.
We used a big stock pot for blanching the corn; we were lucky it fit the whole 2 dozen ears (except the three kept out for dinner) so it could be done in one sweep. Keeping the stems (?) on the corn helped for handling in and out of the hot water. We filled up our sink with ice water once the blanching was done. The kernels were cut from the cobs and then spread on parchment-lined baking sheets and frozen for an hour. Roughly 2 cups or 1/2 pound went into each of our bags and then they were vacuum-sealed.
The chickens got to clean up what we didn't pull from the cobs :-).
Output: 14 (? I forgot to count) 2-cup bags of fresh corn
Little Chick and I made a trip to our local Farmer's Market that same day. It's not much – just half a dozen vendors each time, but it's plenty for picking up the basics. We went mainly for tomatoes but came home with some pink and purple potatoes too; I'm hoping I can get Little Chick to eat them (she still only likes potatoes in the french fry / tater tot form; but we're working on it).
I had to go buy tomatoes because I never managed to buy regular plants this year. I only had those yellow grape tomatoes I grew from seed.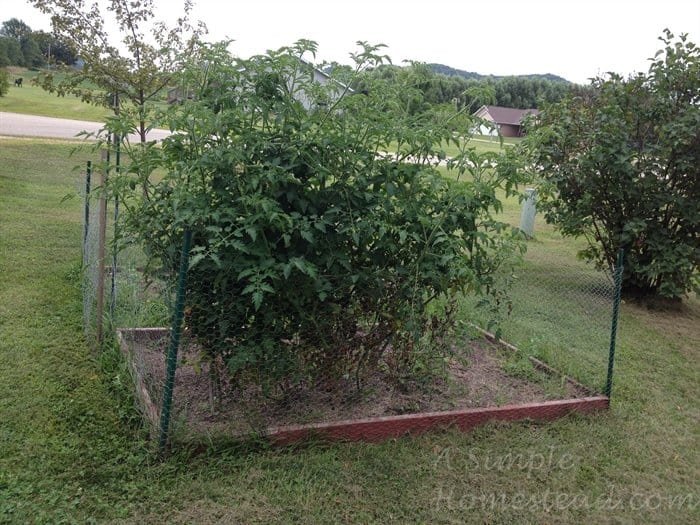 Does that look like a plant that started from seed?! The problem is, I can't get it to stop growing. Seriously. The thing is taller than my head! We've lopped off the top 3 to 4 times already and it still keeps getting bigger. We were finally able to harvest a few tomatoes this week, but I'm not sure what kind of output we'll get with it concentrating all its efforts on becoming The Biggest Tomato Plant Ever.
With all the other preserving going on, did you think we were done yet? Nope. This was a bad year for the plums. I mean, it was a good harvest, but they are horribly sour – unless you skin them first. Papa decided he should make some plum jam. The recipe he used had you blend the peelings in so it's a bit on the tart side, but it's actually quite good.
And … as long as he had all the canning materials out, and had just picked up another package of sugar from the store, he decided to turn some of last year's apple juice into jelly. We are SET for a long time in the jam / jelly department: strawberry, peach, plum, apple, black raspberry (last year's) and probably one or two more I've forgotten.
Output: 5 pints of plum jam and 6 pints of apple jelly.
We don't think we'll need to buy apples this year, at least not for applesauce. Our Haralson tree is overflowing! The only reason we might want to is to give it some added flavor mixed in.
Our root cellar is looking good. It may not look like much, but there are only 3 of us eating off this supply. Although if Little Chick keeps growing like she is (another 1/4″ last month), we made need a bigger larder!
Any canning or preserving going on in your household?