It's been a while since I released a new pattern, but I'm rather excited about this one. It's called Winter Doldrums Scarf as I started designing it during our Polar Vortex spell this winter.
I made this scarf using two beautiful colors of Malabrigo Yarn – Mecha. The dark blue is 43 Plomo and the multi-colored one is
875 Arapey. If you haven't used Mecha before, this is a wonderfully soft, single-ply bulky weight yarn. Malabrigo hand dyes this yarn so each skein is unique and beautiful.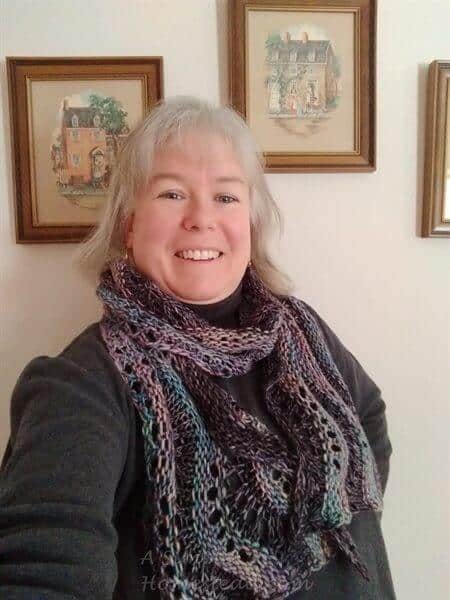 The stitches in this scarf are simple enough for a beginning knitter but it is a great, quick project, using only two skeins of yarn and extra large needles to give it a beautiful, lacy look. It also brings a "lightness" to this scarf. So many bulky weight scarves and cowls are knit so they are dense and inflexible.
As you can see, the scarf is long enough that it will keep your neck warm, but also makes a delightful seasonal transition piece. I love wrapping it around my neck on days where it's warm enough that I don't need a full sweater.
The stitches are designed such that one color has a right-side facing one directly but the opposite color / stripe has its right-side facing the other direction. That makes this scarf 100% reversible. You don't have to worry about which way to wrap it around your neck!
You can pick up a copy of this knit pattern on Ravelry or Love Crafts.