It's funny how when I start to write: "Nothing happened in May," I think to myself. It's a good thing I take lots of pictures as reminders, because a LOT happened this month!
You may recall that at the beginning of the month, we had a sick hen on our hands. I'm sad to say that she didn't even last out the day. Papa discovered she had sour crop, but even discovering what was wrong, it was too late for Oreo.
Two weeks later, he sent me a message during the day to say that Charlene and Brun were gone. At first he thought it was a dog since he found Charlene's body (and only Brun's feathers). But just two days later he spotted a bobcat walking across our backyard!
I had always envisioned bobcats being as large as their cousins: panthers, pumas, cougars, etc. but they really are about the size of our Basset Hound, Finley.
That "kitty" walked right under our backyard deck and headed straight towards the chicken coop. Apparently he thought he could get another meal!
So now we are down to a flock of two hens, who are still skittish. They don't want to leave their coop. When they do, they immediately head for someplace safe – like under Papa's truck or in the arborvitae bushes. We're currently discussing getting some chicks, but we'll have to time this just right with vacations coming up.
I finally got my haircut this month – to the length I'd been wanting for a while – but the cheap hair cut places weren't listening. This isn't a great picture ("bum" weekend pictures aren't always the best) but you get an idea of the length and style.
Late last month, a friend of ours offered us a 1/2 a hog for dirt cheap – basically three trips to the airport (he's a riverboat pilot and needs to drop off a rental car when he returns from his weeks on the boat) plus the processing fee. The thing is that we didn't have to pay much for processing either because Papa wanted larger pieces for grinding his own breakfast sausage and smoking bacon. So I think the whole pig ended up costing us around $165! I searched on the internet to see what "normal" costs were and saw anything from $250 to $500 for half a hog!!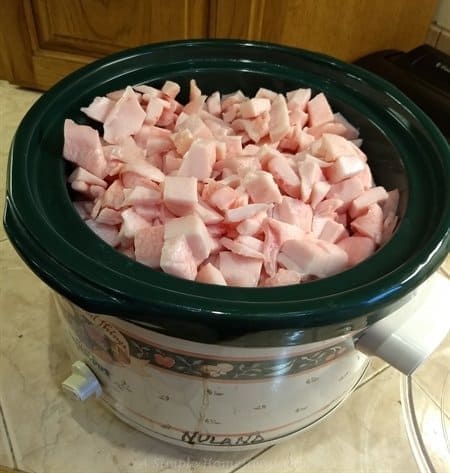 Papa also made sure that we received the fat and we rendered our own lard for the first time. What you see above is regular lard. We also had another crockpot with the "leaf lard" – that is the stuff that is el primo – it's whiter and finer and makes a wonderful addition to pastries.
After curing, smoking and slicing the bacon as well as the other cuts of meat into what we wanted, we ended with the bounty above. Plus, Papa found pork shoulders on sale at the local grocery store so we also have 10 one-pound packages that he made into brat sausage (bulk packaged; not links).
We've really put our vacuum sealer and the meat slicer to good use this month. When Papa was slicing the very last piece of bacon, one of the support screws for the meat slicer broke so we'll have to see if we can find a replacement (why did they make it out of plastic?!?)
Our garden is mostly planted. I have one spot left where I'd like to try growing sweet potatoes this year. We don't have a lot growing yet – mainly just the peas (and a bunch of weeds). As you can see, we've had some nice days where even bare feet appear (although why was the iPad in the garden?!? I don't know).
I have the tomato and pepper plants in the ground and we have our PVC tomato supports in place already. We use the strings to tie up and hold each tomato plant but we don't use the strings until the plants are bigger. I bought four Sun Sweet yellow cherry tomato plants this year. We'll have to see if that many can out-produce what we want to eat!
We had a few days were it was such a joy to be outdoors – when the plum tree was in full blossom. The scent of the plum blossoms is so wonderfully sweet; not overpowering. Now the lilac bushes are in bloom. Papa picked a bunch and brought them inside but they were almost too fragrant – I wasn't overly sorrowful when they had to be tossed out.
If that wasn't enough, Papa has been over at church practically every day. As head of the Property & Grounds Committee (and sometimes unpaid maintenance man), he has been keeping a close eye on the elevator installation going on. Our church is over 60 years old and it was deemed the best way to handle the elevator construction was to place it in an outside corner – to minimize structural changes and construction debris. They broke ground the week after Easter and are now at the point where they just put tar as a sealant over the concrete "box" where the elevator will be housed.
Not all is work around here though. We've had a couple of weekend morning tea parties – just the girls. I'm still crafting – in fact, I have a sewing project I want to share soon! We've also attended a fund-raiser (for the elevator), celebrated a special birthday for a dear friend, and had a quiet Mother's Day at home where I even received breakfast in bed!
Our rainy weather occasionally breaks so we can enjoy the late spring weather outdoors. Although, if you bring food, don't expect to eat it without some hopeful eyes…