My niece's wedding was this past weekend and I made them a beautiful Kransekake as a gift. Many people have never heard of one, so let me enlighten you on this delicious dessert!
Disclaimer: The links below may be affiliate links. If you purchase any products after clicking on these links, at no additional cost to you, A Simple Homestead will receive a small commission for making you aware of these important resources.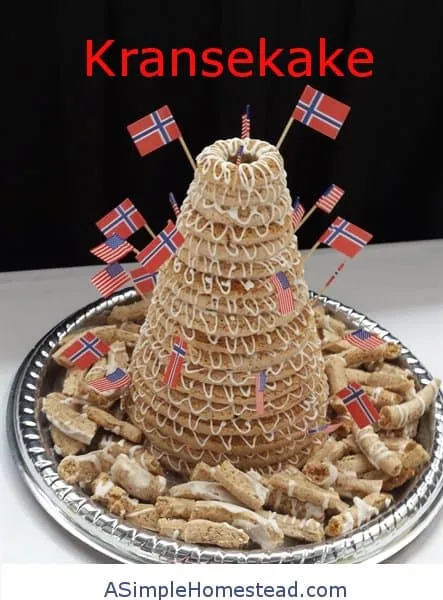 What is a Kransekake?
Kransekake (literally translated as "wreath cake") is an almond-based cake used in Norway for special occasions. It's more like a cookie than a cake and is baked in concentric rings and layered to form a pyramid. The structure is held together by royal icing.
I had never heard of kransekake before my aunt joined the family some many years ago. She used to make them for weddings and anniversaries. Several years ago, I went and purchased my own set of baking rings and was able to surprise them on their 25th wedding anniversary!
My niece's wedding was the 5th time I had made the official cake after a couple of weddings (including my sister's) and a few special anniversaries. It's now become a family tradition for me to make for weddings and milestone anniversaries.
In reality, you don't need the special Kransekake baking rings unless you're going to build the tower. A couple of times I've piped the dough out onto a baking sheet to make "cookies". Why? Because weddings and anniversaries don't come often enough to enjoy this delectable treat!
Ingredients
Each time we make this cake we discover a few tricks. My aunt has always used almond paste to make her dough; I learned to grind almonds until they're almost a paste/butter. Using pre-made paste makes for a lighter, less nutty texture in the end product which some people prefer.
If you grind the nuts yourself, you may end up grinding them in stages – sometimes sifting them through a strainer to get the big pieces out and process them again. You definitely don't want large pieces – I think it makes the rings more fragile. Then again, if you process for too long you start to get almond butter! You want the nuts just before it gets to that point.
Besides the almonds, the cake/cookies only need confectioner's sugar (powdered sugar), a little bit of all-purpose flower and egg whites. That's it. And then there's more confectioner's sugar and egg whites along with a bit of almond extract for the royal icing. Just a few ingredients, but oh-so-good.
Tips and Tricks
When making a Kransekake for a party, I recommend mixing up 1 1/2 to 2 full batches of dough. If you make 2 full batches you will end up with at least 2 sets of rings, which is nice to have in case one ring breaks (although that doesn't happen often). Also, when the Kransekake is on display I like to leave a full tower up but have several rings broken up around the base so people and still taste the dessert while ooh-ing and ahh-ing over it. Only when there are no more broken pieces do you have to start demolishing the tower, and even then I start with the bottom Kransekake rings leaving the top intact.  It's nice to have plenty so that people can have more than just a single taste … because they usually want more (and more and…)
This is a VERY stiff dough – I recommend using a stand mixer or food processor or you may have tired arms by the time it's all mixed together.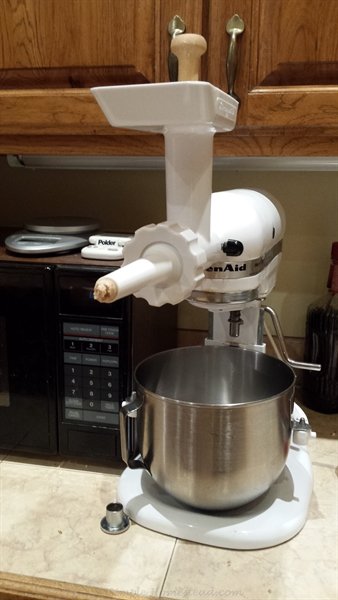 In previous attempts we've always used my old-fashioned metal cookie press to get "ropes" of dough into the baking pans. After a while, it becomes hard on the hands. I wouldn't recommend a plastic cookie press – the stress may crack it; it would be better to roll out the dough by hand. This year, Papa remembered that we had a sausage stuffer attachment for our Kitchenaid mixer.
We tried the 3/8″ but that looked too small. Turns out the 5/8″ diameter was too big – but what we did was take those and cut them in half. The dough "grows" a bit in the oven, which is why you don't want to overfill the Kransekake rings. However, cutting the dough in half meant that the bottoms of the rings all had flat-ish surfaces. Cutting made them easier to stack and assemble!
Baking the rings
Here are the rings all prepped and filled. I purchased the non-stick version of the rings, but even so I wanted to make sure the rings would release ok, so I still greased them with butter. I never bother with the cornstarch or Cream of Wheat.
Note: if you purchase the non-stick pans, make sure you read the instructions and decrease the oven temperature! If the oven is too hot, they'll puff up, leaving hollow, fragile insides and not very pretty Kransekake rings.  Live and learn! Fortunately, I've only encountered this problem once – years ago.
Delivering the result
Transporting is always the scary part. We have transported them as individual rings. For this weekend's wedding we decided it might actually be safer to "glue" them together with the royal icing, let it harden, wrap the tower in bubble wrap and place in a tall container (like a box) so it wouldn't shift around. No problem at all getting it there in one piece!  All that was left to do was to decorate it with Norwegian and American flags (to celebrate our Norwegian-American heritage).
As I mentioned, you don't have to make this into Kransekake rings if you want to give this recipe a try. I still make "ropes" cut into 1″ – 2″ length pieces and bake, but check after 20 min to make sure they don't over-bake.
You know … I think we still have some almonds left in the freezer. Maybe I should make some more this weekend :-).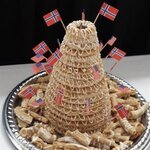 Print Recipe
Kransekake (Norwegian Wedding Cake)
Ingredients
1

lb

almonds – unsalted and not roasted

skins are ok

1

lb

confectioners' sugar

~3 1/.4 cups

3

Tbsp

all-purpose flour

3 to 4

unbeaten egg whites

Royal icing

2

egg whites

1

lb

confectioners' sugar

2

tsp

almond extract
Instructions
To prepare rings, generously grease the pans and then sprinkle with bread crumbs or uncooked Cream of Wheat. For non-stick pans, grease the pans with shortening or butter – do not use cooking spray.

Fit food processor with steel blade. Process almonds until pulverized. Add confectioners' sugar, flour, and 3 egg whites; process until dough is firm but not dry. Add fourth egg white only if necessary to make dough manageable.

Chill 30 minutes, wrapped in plastic wrap.

To shape dough for rings, attach a 1/2"-inch tip to a metal cookie press. Fill cookie press with dough. (Note: this will not work with a pastry bag – the dough is too stiff). Press dough out onto flat surface in long strands. Alternatively, use a stand mixer sausage stuffer to create the long strips. Cut into lengths to fit the prepared rings. Rolls strands between palms and counter-top to make strips as smooth and even as possible. Place into rings and seal ends. Do not overfill rings or they will be difficult to remove from pan after baking.

Preheat oven to 325°F. For dark or non-stick pans, lower temperature to 300°F. Bake 30 minutes or until firm and golden brown. Do not OVERBAKE! Let cool in pans. To remove from pans, carefully insert tip of sharp knife under baked dough ring in several places, lifting gently. If rings break, keep pieces intact so you can mend them with royal icing.

Royal Icing: Beat 2 egg whites and 2 teaspoons almond extract until fluffy. Add 1 lb confectioners' sugar until mixture is smooth and icing can be drizzled through the fine tip of a pastry bag. Alternative: Use Wilton's Meringue Powder and mix according to directions for royal icing.

To assemble the cake: Attach fine writing tip to a pastry bag. Spoon Royal icing into bag. Place largest ring on serving plate. Drizzle some icing on top of ring. Top with next smaller ring; drizzle with icing. Continue stacking rings and drizzling with icing until all rings are stacked. Decorate with flowers, flags, or shaped marzipan.