Growing your own seeds is a great way to save money in gardening . In this article, I'm going to share with you some ways you can save money on starting those seeds!
Disclaimer: The links below may be affiliate links. If you purchase any products after clicking on these links, at no additional cost to you, A Simple Homestead will receive a small commission for making you aware of these important resources.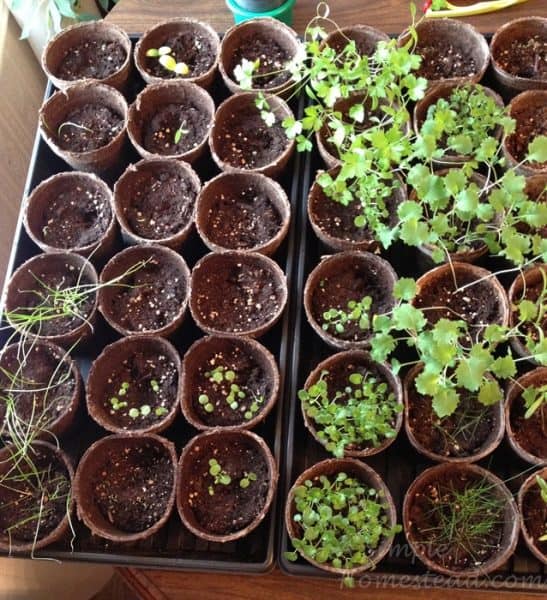 We're in the middle of an early February blizzard here in Wisconsin, but my yearly task reminders are telling me that it's time to think about starting seeds!
You may also be interested in: Reasons to start plants from seeds
Where to get containers
Before you even think about the seeds or soil, you need to determine where you will start your seeds.
Peat pots
Peat pots aren't very expensive – you can get 100 of them for around $20. They are a one-and-done item – use them once only. The reason I sometimes still purchase these is I love the convenience! I am able to plant the whole pot in the ground and not worry about damaging those delicate roots!
Egg shells
Another great idea is to use egg shells! If you have chickens, or go through quite a bit of eggs, plan on saving those shells. The egg shells are biodegradable and will help feed your plants as they grow! I have found these to be on the small side for my plants, but you can't beat the price!
Recycled containers
Other containers such as empty soup cans and small plastic containers can be recycled. I wouldn't necessarily keep these around from year to year. But you can pop them in the recycling bin in the fall (after rinsing the dirt out).
Save money by making your own "pots"
My favorite pots for starting seeds are made from newspaper! I purchased a wooden pot maker like the one shown above years ago. You just need some newspaper and this helps to form a little container to hold the soil. I've found it works best if you use a couple of layers of newspaper, otherwise the water can cause them to disintegrate before they're ready to plant. We don't subscribe to the local newspaper but we still get the weekly "flyer". Plus, our neighbors are willing to share newspapers with us.
Along the same idea, I also found this tutorial on how to make your own soil blocker. It uses a can or plastic container an eye bolt and a couple of nuts and washers.
What to use for plant trays
Unless your pots are impermeable to water, you're going to need a tray to store the seedlings – especially if you're using peat or newspaper pots!
You can buy trays, some of which come as a kit with peat seed starters. I've used these in the past when I'm feeling lazy, but I don't really recommend them. The trays are often flimsy and as I mentioned before you'd have to buy the peat starters each year. The square peat starters are often too small for the plants by the time I'm ready to put them in the garden. I do however like the ones with domed lids to help keep in moisture.
For larger plants or small groupings, I like to use plant saucers – thick and sturdy ones that I can use under my indoor plants other times of the year.
But most of the time, I like to use totes! They're designed for easy carry and storage, they come with lids and it's easy to find them in a variety of sizes! If you're careful about watering, you could even use a tote lid to start your plants! I especially like to use totes because I often have to move my plants throughout the early growing season. Such as when the in-laws come for Easter and we need to use the dining room table 🙂
Save money on Growing material
Unfortunately dirt is not all created equally. For seeds, you want to make sure you are starting them in a good environment – namely light soil that won't easily compact when watered. This will make it harder for the tiny seedlings to grow and may hold too much water, causing the seeds to rot.
Buy at the end of the season
Sometimes gardening centers will have sales at the end of the growing season to clear out bags of growing materials. Soil isn't going to go bad, so go ahead and stock up for the next spring!
Make your own
When you purchase the materials to make your own seed starter, it may not seem like you're saving money. But purchasing the different materials separately will amount to so much more finished seed starter mix than the smaller bags.
The most common recipe I've used for seed starter is:
4 parts compost (screened)
1 part perlite
1 part vermiculite
2 parts peat moss or Coco coir
In my opinion, the hardest part about making your own seed starter is finding a big enough container to mix it in and possibly store the leftovers!
Saving on seeds
Now that you know how you plan to store your seedlings, now you can start thinking about where those seeds will come from!
Here are a few ideas on how you can save money on the seeds you need to plant:
Harvest your own seeds
Learn the basics of seed saving and save some of your seeds from your current harvest. I realize this won't help you if you're just starting up or you "forgot" to save last year's seeds. However, it's good to keep in mind as it's the perfect way to make sure you have the seeds you need. When Covid-19 hit and people started doing more gardening, seeds suddenly because a commodity people had a hard time finding. I've heard some seed companies are also limiting purchases for 2021! By saving seeds from year to year, you will eliminate your dependency on outside sources!
Buy at the end of the season
Again, this tip won't help you if you're looking for seeds in the spring but another idea to keep in mind. I haven't found this to be a great option. The places I purchase from don't often have big end-of-year sales. And even if they do have sales, your choices may be more limited.
Phone a friend
Consider asking your gardening friends and neighbors if they would mind sharing some of their seeds. This especially works if you can return the favor with different seeds!
I've had several occasions where I've purchased seeds where the seed count would last me a lifetime! Zucchini is a good example, since hubby won't let me grow much (if any!) Onion sets are another prime candidate. I haven't found anywhere local to purchase them in less than 100. That many onions would take up a large portion of my small square foot garden!
Price compare
I feel like this doesn't really need to be a tip – it should be fairly obvious. Unless you're restricted to only buying seeds at one store (say, locally), then take your time to shop and compare prices before making a decision. If you're online shopping, this task is even easier. Just make sure you factor in any shipping costs to those prices!
Buy variety packs
Variety packs of seeds can save you money if you want more than one type but don't want to purchase each one separately. A good example of this is salad mixes. I can get multiple types of lettuce that will make our salads more interesting. Just be careful when you're thinning the plants later that you try and keep that variety in the garden.
Buy only what you need
While it's tempting to by All. The. Things. when those seed catalogs arrive but let's be realistic for a moment. Are you really going to want to plant 5 types of okra? Will your family even eat that special pink broccoli (I'm making that up)? I try and stick with the basics that I know my family likes and will eat. Each year I tend to throw in one special item just to "test the waters" to see how well it grows in our climate or if my family enjoys it. However, the bulk of my purchases stay within our normal eating habits.
Along the same lines, I make sure we grow what makes sense for our small garden. For example, corn can take up a large amount of space and our yield/finished result wasn't all that great. We know of a wonderful local farmer that consistently delivers delicious corn each year, so we exclude corn from the garden and purchase from them.
Plant less
Planting less seeds means first of all that you'll make your seeds stretch further, but all that you'll have to do less thinning later! A great way to accomplish this is to make your own seed tape. I've found this a great help for tiny seeds like carrot and lettuce, which tend to float away on the breeze when I'm outdoors!
All you need to do this is thin "paper": newspaper (just not glossy or colored), single ply toilet paper, paper towels, etc. Cut these into strips approximately 1″ (1.5 cm) wide. Using a ruler, mark off the spacing needed for your seeds. Mix equal amounts (1 Tbsp each) of flour and water and mix; add more water until the mixture is still a thick paste but can be spread. I then use a paintbrush or cotton swab to "paint" the flour paste where the ruler marks are and place the seeds on the mixture. A tweezers helps with tiny seeds. I'll often use 2 (or 3) seeds for each spot just to ensure good germination. Then all you need to do is plan the seed tape in rows and wait for those green shoots to appear!
Do you have any other tips I missed? I'd love to hear about them!