Whew! I can finally count this one as finished.  I took a class at yarnology … oh, let's see, I guess it was last October. One little item only took me 8 months to finish. It was "done" months ago, but the directions suggested gently steaming the ornament before stuffing to relax the stitches. That's what took me the longest. My iron and I are not the best of friends and I was so afraid of ruining this, that it just sat … and sat … This week I decided it would be better to finish it without steaming than to let it sit any longer.
Pattern: from 55 Christmas Balls to Knit: Colorful Festive Ornaments–Tree Decorations, Centerpieces, Wreaths, Window Dressings
Designer: Arne & Carlos
Yarn: Cascade Yarns 220 Superwash Sport
Colorway: White (871) and Navy (854)
Ravelry project page
---
I can't quite count these as finished because they're part of a larger project.
<comment side trip> I have one of those husbands that creates stinky dishcloths. They end up in the bottom of the sink, sopping wet for a day or two. Not a complaint; it's something I've learned to live with. What that means is that it works better to have thin dishcloths in the house and lots of them so they can be replaced frequently. <end comment side trip>
Over the last several years, I've made crocheted dishcloths, knit dishcloths, and more dishcloths. But what to do with them? I could give them away as gifts, but there's a limit there too. I really like working on them – they are easy and portable projects whether I'm at the doctor's office or monitoring Little Chick in the bath.
Papa suggested if I really wanted to make something and practice with different stitches, perhaps I should make them as afghan squares instead. I'd actually thought about it before that but hadn't made the cross-over yet. Cotton might be nice, but for an afghan I prefer using acrylic or a blend.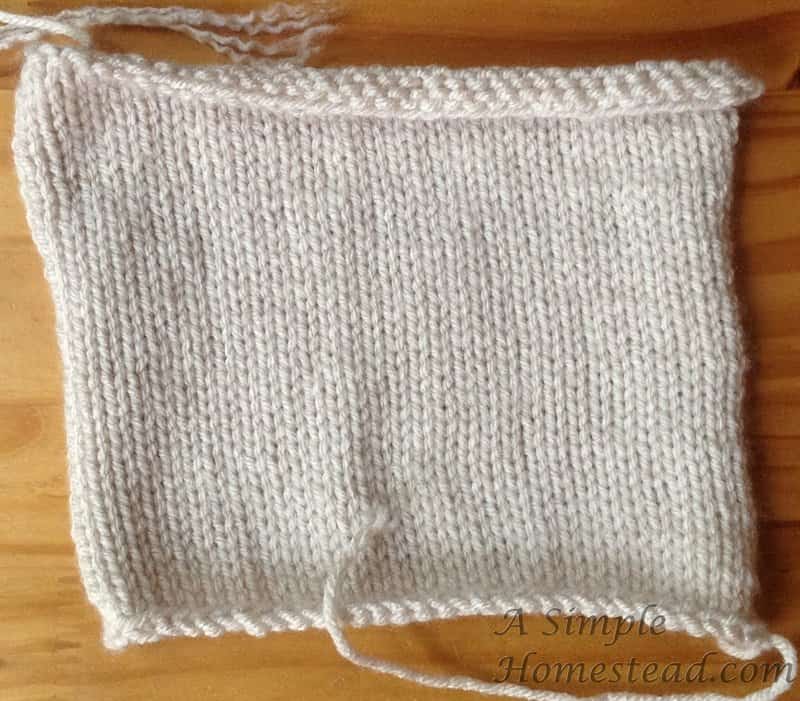 Pattern: a simple stockinette square
Designer: me
Yarn: Hobby Lobby I Love This Yarn!
Colorway: Linen (240)
Ravelry project page
Pattern: a knit-2, purl-2 patterned square (details on my Ravelry project page)
Designer: me
Yarn: Hobby Lobby I Love This Yarn!
Colorway: Linen (240)
Ravelry project page
I'm also in the process of working on a Tunisian crochet shawl for a crochet-a-long (CAL) on the CrochetKim Yahoo group. The pattern wasn't free, but you can buy either the Sapphire Wrap pattern by itself or the Short Row Tunisian Fashion book from LeisureArts.com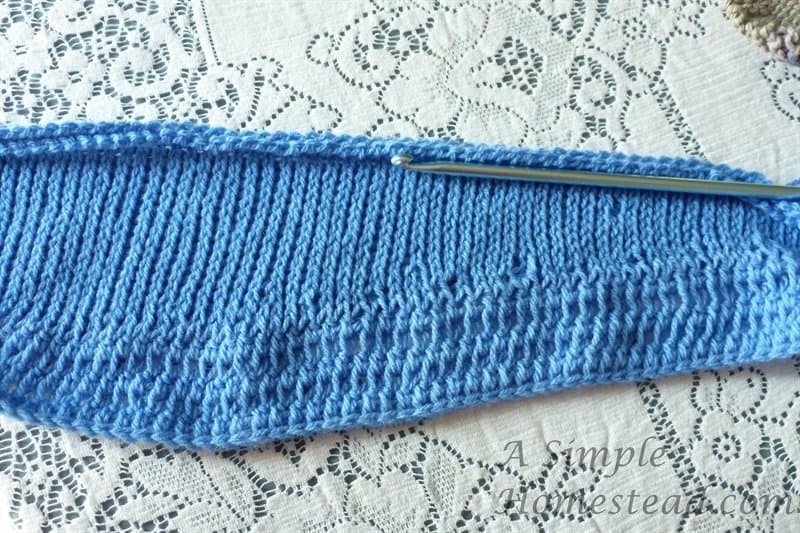 For someone who has limited Tunisian crochet experience, this will be a challenge. It not only uses basic stitches but has you trying short rows and lace! So far, it's been fun and a good learning experience.

Note: This post contains affiliate links