My family has been sporting some new attire this summer which is fun and personalized!
My mother had picked up several inexpensive cotton t-shirts for Little Chick a couple of years ago that were too big, but too good a deal to pass up. Last February when we were visiting them, I knew we'd have to bring them back before she outgrew them.
She loved her Anna & Elsa t-shirt I made last winter so I thought a few more princess-y shirts might be well received.
I spent a LOT of time trying to figure out what pictures to put on which shirts. Way too much time, as if there'd never be other shirts to decorate LOL!
To recap how these are made, you need to somehow get an image onto freezer paper so it can be cut out. The trickiest part is to remember that you don't need to worry about how neat the black / cut-out part is. It's more important to make smooth edges from what is remaining.
I love this image of Tiana (from The Princess and the Frog) that I was able to keep her the color of the shirt and create an outline to highlight her and the frog.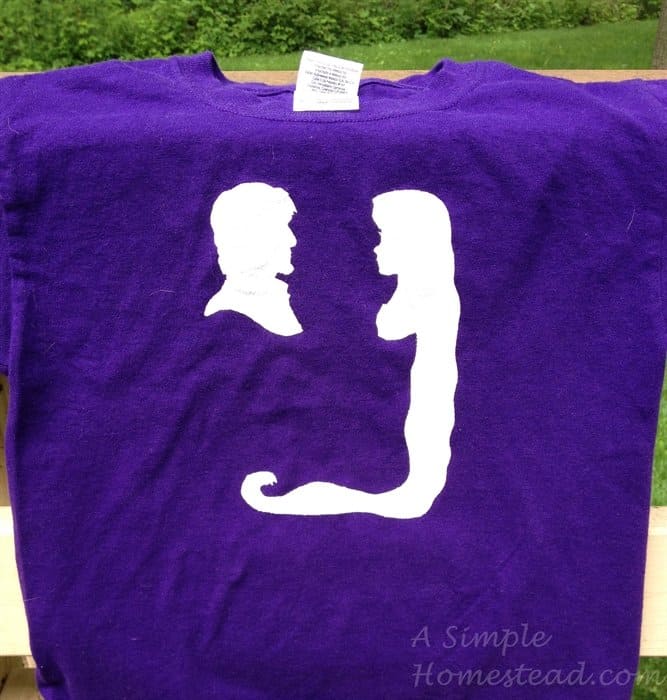 I thought a purple shirt would be great for Ariel (The Little Mermaid) but Little Chick wouldn't let me take the picture I printed out. She kept taping it to the front window!
Rapunzel and Flynn Rider (Tangled) silhouettes work well though. It was this shirt that made me realize the white paint I had wasn't as thick as the black, and that made for less-than-crisp lines. Next time I'll watch for that when I'm buying.
This last shirt for Little Chick is my favorite. I had to buy more black paint recently and when I was there I spotted a tiny tube of silver metallic on clearance (those little stickers call to me… take me home!). I tested just a little bit on the paper plate I was using as a palette. The paint comes out grey and sparkly but I could tell it would probably dry clear … and sparkly. I decided to paint the image in solid black first to give it good definition and then second coat with the sparkle paint. It turned out so great! I wondered if the sparkles would flake off like some glitters do, but I haven't seen evidence of that.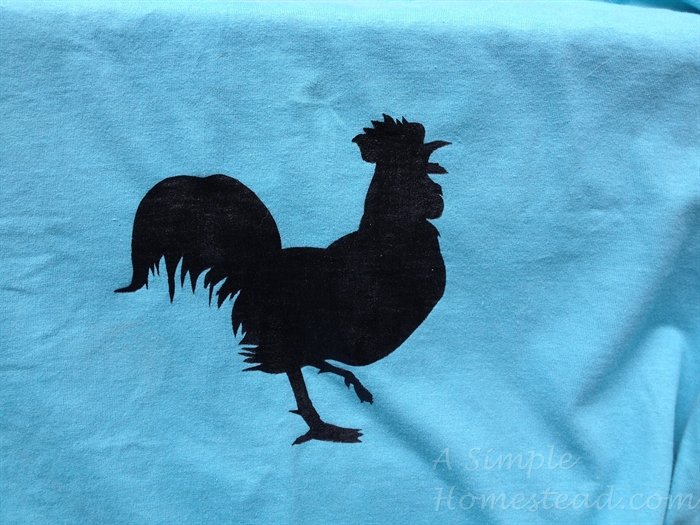 I didn't want to leave Papa out of the fun either. Actually, I bought this shirt for him last winter but couldn't figure out what type of image to put on it. I finally broke down and asked him. After a few less than helpful suggestions he finally latched on to a chicken. He's worn it several times even though the shirt is long-sleeved and it's summer weather … so it must be a hit.
Disclaimer: I didn't create these images and take no credit for them. They were images I found in searching and "borrowed". But I'm only making shirts for personal use so I felt it was ok.