I've been finishing a lot of smaller projects of late and it seems it has been mostly hats and scarfs/cowls!
This unique looking scarf was a test project for one of my designer "friends" (online). It is crocheted in sideways rows, working around until you reach the button side. It was a quick project – only taking a couple of days, including the time to sew on buttons.
I'm sad because it is EXTREMELY hard to capture the true colors in this scarf. In fact, sometimes it looks like these pictures – mostly reds and oranges but in certain light it's much more colorful with deeper purples and a little green and blue. Then it becomes a truly amazing color.
Pattern: Coriolis Effect Scarf
Designer: Vicki Mikulak
Yarn: Malabrigo Arroyo
Colorway: Archangel 850
My Ravelry page
This project was a hat and cowl that I designed myself although I don't really plan to publish it. I made it for a birthday swap over on Craftster. She lives in Canada and said she could use lots of hats and scarves, and her jacket was the color red. The biggest trouble I had was that the cowl kept wanting to curl even after blocking. It wouldn't be so bad, but you can see the floats from the stranded knitting. Regardless, the recipient seemed to enjoy it.
This was my first use of the Rowan Pure Wool yarns now that my LYS stopped carrying Cascade 220. I still prefer the Cascade yarns. It caused me concern to see these white plastic bits threaded in the yarn. How do you label it "pure wool" if there is plastic? I'm giving them the benefit of the doubt (for now) that it must have come off their machinery.
Pattern: cardinal fair isle hat and cowl
Designer: me
Yarn: Rowan Pure Wool Superwash and Cascade 220 Superwash
Colorway: 136 Cardinal and 871 White
My Ravelry pages: hat and cowl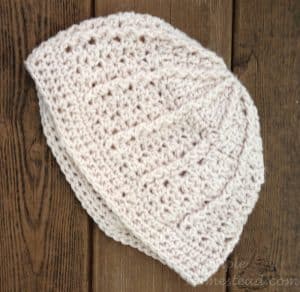 15 free patterns by 15 different designers = The Holiday Stashdown Crochet-a-long 2015! The stash down projects are all small, one-skein that would be perfect to give as gifts. I don't really have anyone in mind for the hat, so it will probably get donated to charity. This used the last skein of yarn I had left from my UC 2014 Sampler Mystery KAL afghan. And how fitting is it that the yarn was used for yet another project from the same designer?
Pattern: Not Quite a Slouchy Hat
Designer: Marie Segares – The Underground Crafter
Yarn: Hobby Lobby's I Love This Yarn
Colorway: 240 Linen
My Ravelry page
And finally – there is another CAL I found that is doing multiple stash-busting (usually one-skein) projects just in time for the holidays. This is the Christmas Present Crochet-Along over on Elk Studio.
The first pattern released was the cowl and the second pattern was the hat. For each of these she posted a pattern in bulky weight yarn and another in worsted weight so there are some options available. I don't have much bulky yarn in my stash, but I found these grey and pink yarns that I thought would work. I made the cowl first and had a little bit left over so I added it to the pink for the hat. I'm glad I did – both because I wouldn't have had enough yarn just using the pink and because now they look like a set!
Pattern: Elk Studio CAL – projects 1 and 2
Designer: Kathy Lashley
Yarn: Ella Rae Pebbly and Lion Brand Jiffy
Colorway: 04 (grey) and pink
My Ravelry pages: cowl and hat
Any stash busting or Christmas projects started in your household?