I finished my first lacy shawl! I've made a couple of shawls before but they've been thicker yarn – more for warmth than style. I saw this pattern, went to The Yarn Attic (the KAL sponsor) and spotted a lovely yarn called Ella Rae Lace yarn … and an even lovelier colorway called Bubble Gum. At first, I refused to purchase it because I have plenty of yarn (!!!). Within a couple of weeks, I found out I won a $10 gift certificate to the store for participating in a different KAL. Yippee! I took that as a sign that I needed to buy that yarn 🙂

I have to say I'm in awe of people that make these all the time … and of those that design them. After all, they don't look like much when you're working on them.

It's not until you block (stretch and pin) the shawls that their beauty comes through.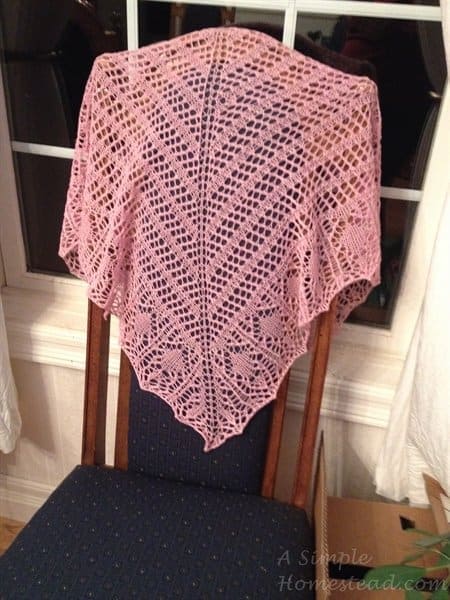 I discovered that if I'm going to continue to make these, I need to get another set of blocking tiles. Our entire craft room / exercise room is covered in them but they're 15″ and they won't interlock with these.

I'm not sure where I'm going to wear this, but I don't care. It's lovely and it's all mine 🙂
Pattern: Glam Shells
Designer: Marisa Hernandez
Yarn: Ella Rae Lace Merino
Colorway: 47 Bubble Gum
My Ravelry project page