Anyone who knows us is aware of just how much Papa and Little Chick love each other. I don't always get my act together for events like Father's Day but this year I wanted to do something special.
Little Chick isn't old enough to contribute a whole lot, but we had fun with these items.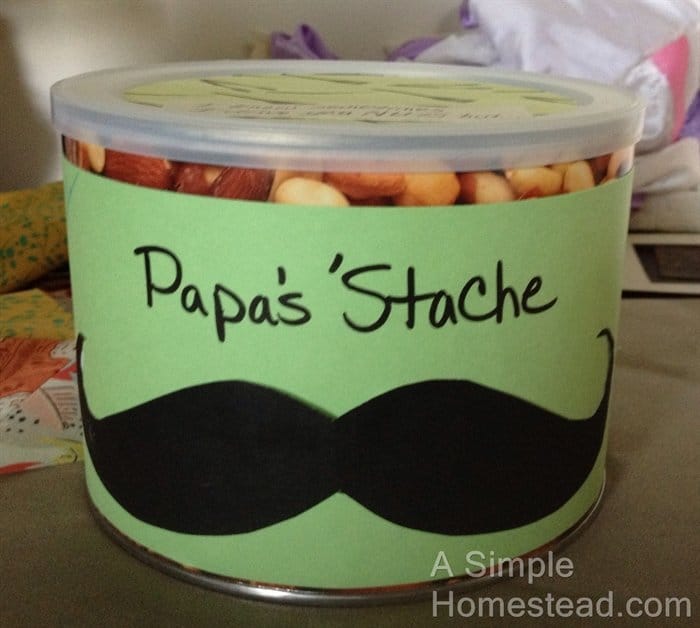 This is a 2-pound can of mixed nuts.  I found a mustache silhouette out on the web, cut it out, and pasted it on a piece of cardstock.   Then I let Little Chick decorate the cardstock. Unfortunately, the picture doesn't show what she drew.  And I didn't take a picture of what she did with the rest of the cardstock.  LOTS and LOTS of glitter glue.  Uh, honey?  Not sure Papa really wants that much glitter!
I've had this grilling scrapbook paper in my collection for a while and wasn't sure what to do with it. It made a nice decoration for the top of the can.
Papa doesn't drink or really even like beer, but he's discovered a taste for Redd's Apple Ale. We don't drink much in our house, but I figured a six-pack for this special occasion was in order.
Papa loved his gifts, but he gave Little Chick a big hug and said she was his most special gift. Aww … just melts your heart.
We had a lovely day – beginning with church in the morning, some outdoor play, and ending with a burger cookout on the grill.
Did you do anything special for Father's Day this year?