I've been torn lately between wanting to shout from the rooftops that we have a READER in the house and crying because my baby is growing up too fast. I know I've been telling our family that we have a Reader for several weeks now, but this week she picked up a book she was unfamiliar with and read it entirely (except 2 or 3 harder words). sigh
Did you know March 2nd was Dr. Seuss' (Theodor Geisel) birthday? I didn't. But in the education world, apparently that day / week is practically a holiday :-). Little Chick has been coming home each day with stories of books they read at school like Green Eggs & Ham and The Cat in the Hat. All books I grew up reading and listening too and it's excited to see her loving them as well.
They've even read less-known books like The Foot Book and created their own version – as we discovered orange paint still between her toes!
On Monday, we had a Mommy & Me potluck at school for the two 4K classes.
Not many of the afternoon 4K students were there – probably because most of them had just gotten home! But we had a good time meeting some of the other mothers and children. They had pre-/post-dinner activities for the kids. Little Chick only was interested in making one – Thing Two, so I made a matching Thing One.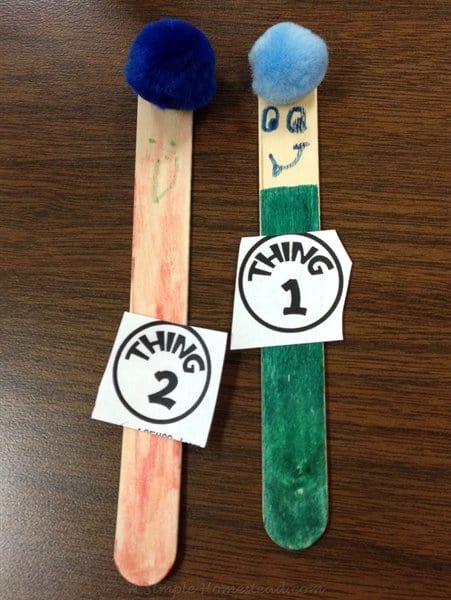 They also had crafts for making a One Fish, Two Fish, Red Fish, Blue Fish collage and a red and white paper hat like the Cat in the Hat, but she was more interested in running around.
We only stayed an hour or so, but it must all that activity tired her out. I don't know who wanted to sleep more – her or Finley.
---
Most of our snow melted last weekend, but we woke up on March 1 with a couple of inches covering the ground again. Enough that someone didn't want to go outside first thing in the morning! Although, he'd rather walk on snow than mushy, muddy ground squishing between his toes. Such a diva!! (can a male dog be a diva?).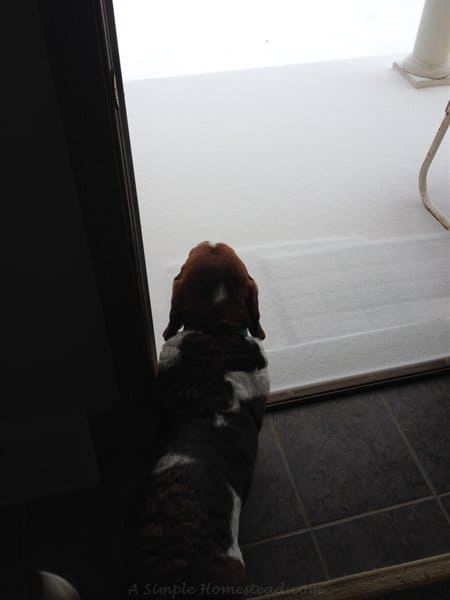 Not sure if that means that March came in as a lion or a lamb. Maybe a Sheepish Lion?!
The chickens have been enjoying the snow disappearing. They get a chance to run around, trying to find those first greens of the season.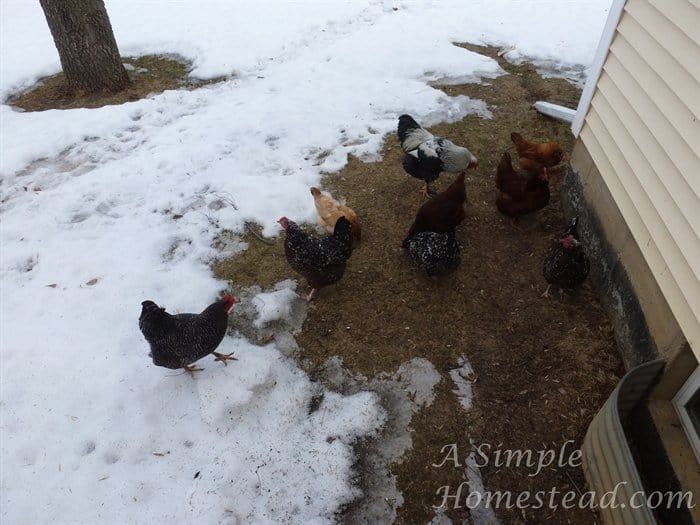 When Little Chick and I arrived home from dinner on Monday, I was hoping the chickens were locked up safe and tight – and that Finley was inside. My headlights illuminated a coyote at the end of the road!! He ran off when spotted. We've heard them lots of times but this is the first I've seen one up "close".
That's put us on alert this week. So much so that when Finley wanted to go out late last night, I had to stop and decide if the "barking" I heard was coyotes or not. Turns out, it was Barred owls! They were making the distinct "Who cooks for you?" call I was familiar with but then it sounded like chattering. It was quite loud, so they must have been close. If you've never heard owls and their various calls, I'd recommend checking these sounds of a Barred Owl – especially the "pair caterwauling". That's exactly what I heard – except it sounded more like a pack of animals than just a couple.
With the animals moving around more and the snow melting … it looks as though spring may arrive soon!
This post contains affiliate links.