A few years ago I posted a Homemade Granola recipe that I had tried to duplicate from watching a Food Network show. Even though it tasted delicious, I considered it a work in progress. Partly because I prefer to have granola clusters – something I can pick up with my hands to munch on. Loose granola is fine for eating as cereal or even to put over Homemade yogurt, but I was still in search of my "perfect" granola. I think I've finally come up with the recipe!
This is a picture of it prior to baking. It looks rather dry and not like something that would stick together. But there's a secret to making it… whipped egg whites. The egg whites are beaten until they become white and frothy. All that incorporated air increases the volume so it coats the granola nicely and brings it together.
My recipe is a compilation of several I've tried. One recipe had butter – another used oil. One called for whipped egg whites but no yolks – which I thought was not only a waste but a missed opportunity for adding in protein. Another had cereal for more crunch. The recipes varied greatly on their use of sweeteners.
My "final" recipe has quite a bit of sugar in it, but that too helps to form the clusters without being overly sticky and sweet. If you wanted to make non-clustered granola you could probably reduce the sugar content.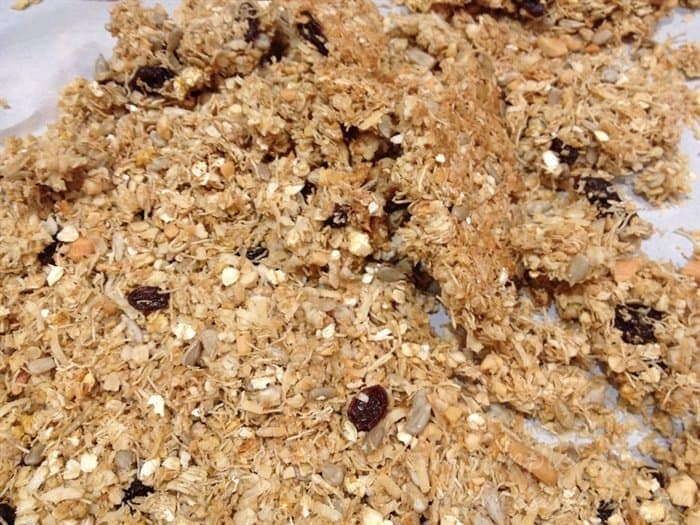 Using big-name brand cereals means it's not quite as "whole foods" as my aim has been, but it's closer than buying some granola packages from the store!
Papa hasn't been too crazy about my granola experiments in the past, but he really likes this version. He eats it as a cereal with milk on it for his nightly snack. Bummer for me because then I have to make it more often so I have snacks to take to work!
I have successfully substituted walnuts, pecans, cashews, or pistachios for the almonds and dried cranberries, cherries or blueberries for the raisins. Play with the different combinations to see what is your favorite. If you make this yourself, please let me know how it turned out – I'd love to hear how you personalized it!
Print Recipe
Crunchy Granola Clusters
A simple granola that results in crunchy clusters. Makes a great yogurt parfait topping or eaten as a cereal.
Ingredients
2 1/2

cups

oats

old-fashioned or quick

1/4

cup

olive oil

1/4

cup

brown sugar

1/3

cup

honey

1/2

cup

raisins or other dried fruit

1

cup

flaked coconut

2

cups

corn flakes

1

cup

almonds; substitute any kind of nut

whole or chopped

2

egg yolks

2

egg whites
Instructions
Preheat oven to 300°F

Line a jelly roll pan / 15×11″ baking sheet with parchment paper.

Beat the egg whites until frothy.

Mix all ingredients except the egg whites together in a large bowl until evenly coated with oil and honey.

Stir in beaten egg white until everything is coated.

Spread mixture evenly on the baking sheet. Press down lightly.

Bake for 20 minutes; do not stir.

If the air is humid, you may want to allow the granola to cool in the oven (turn the oven off).

Once cooled completely, break into pieces and store in an airtight container.
Notes
If you have real maple syrup, you can substitute up to half of the 1/3 cup of honey for syrup. Any more than half, the clusters may not stick together.
This also works with other types of cereal such as shredded wheat, crisp rice, etc. It just needs something to add crunch.