I have been reluctant to show this recipe. Certainly not because it's not very good. Because it is. Too good! No, it's because it took multiple attempts to get a good picture of the final product. I tried several times. Which means Papa has made several batches of this recently (as my scale would indicate).
Custard still in the ramekin is "ok", but it doesn't show the best part!
While a partially filled bowl gives you a view of the goodness that lies beneath … it doesn't look very appetizing.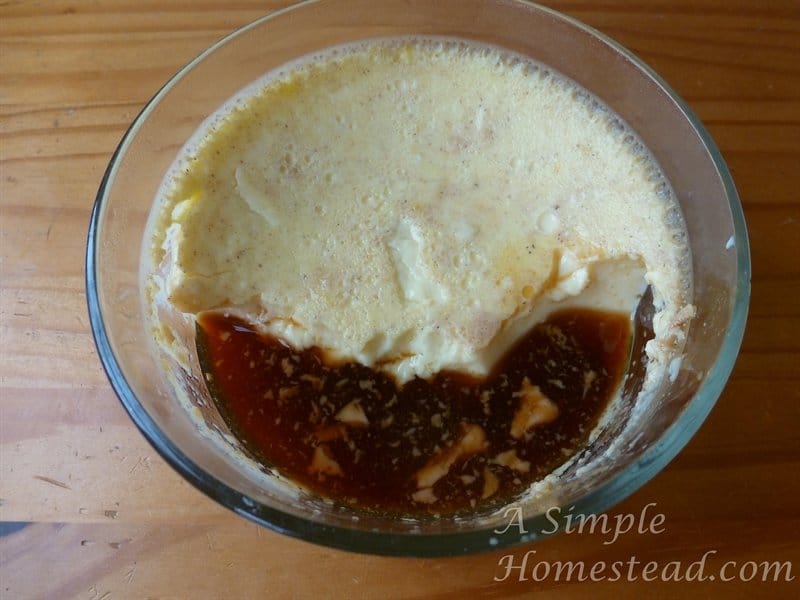 Scooped out into a bowl looks pretty good.
And then there is this one…
Whoops! I guess Mama got to that one before the picture was taken.
Here we go … this one turned out pretty tasty looking!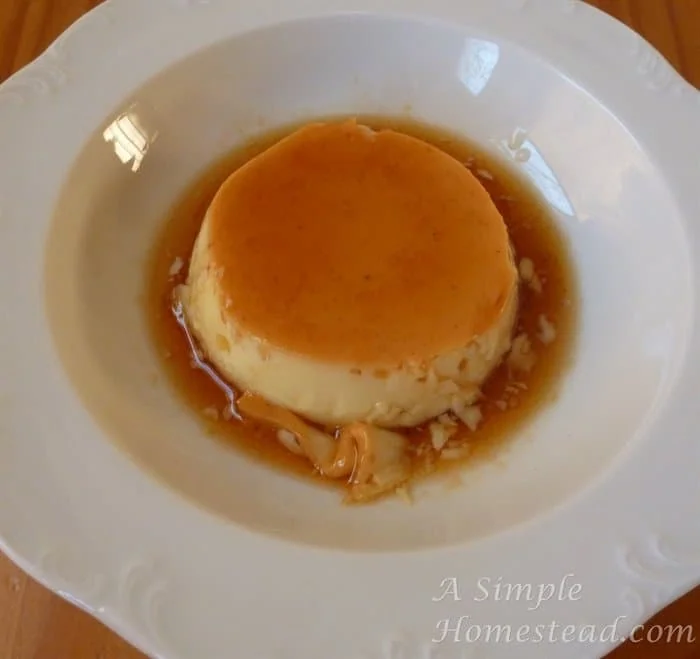 Frankly though, it doesn't matter what the custard looks like… If you have eggs, you need to make this today!
To be honest, Papa used to make this occasionally after we were first married and I ate it but didn't think much of it. Or maybe it's because sometimes he made as caramel custard, sometimes put the sugar on top after it baked (that's called creme brulee, people!), and sometimes I think he made it just plain. Then a few years ago, I got pregnant. Papa just happened to make this one evening … and for some reason I was hooked. Apparently for life. He ended up making it several times until Little Chick's birth, at my request – but it's easier than making midnight trips to the store for pickles and ice cream.
This dessert is so easy. Our original recipe came from our trusted 1950's Betty Crocker, but of course we had to change it up a bit. The recipe had this cute little poem to go with it:
I like them warm … or cold, if they last that long. Spooned from the cup is just easier for me … and saves on dirtying a plate. If you eat them right away (which I have often done), some of the caramelized sugar will be like hard candy stuck to the bottom of the bowl. If you want to lick out the bottom of the dish, it's best to save yourself some embarrassment and attempt it when you don't have company over. However, if you let it sit overnight … I know, it's so hard … ALL that caramel goodness will turn to liquid and become a lovely sauce for your custard!
Print Recipe
Caramel Custard
Ingredients
1/2

cup

plus 1/3 cup sugar

3

eggs

1/4

teaspoon

salt

2

cups

milk

1

teaspoon

real vanilla extract

a sprinkle of ground nutmeg
Instructions
Grease your ramekins or casserole and place them into an oven-safe pan. Preheat the oven to 350°F.

Melt the 1/2 cup of sugar in a small pan over low heat, stirring until it turns brown. Pour a little into each cup and swirl the cups around so it coats the entire bottom.

Beat slightly the eggs, 1/3 cup sugar and salt.

In a medium saucepan, heat the 2 cups of milk and nutmeg until a film forms on top (this is scalding the milk). Slowly pour the heated milk into the egg mixture, stirring constantly so the eggs don't become scrambled. Stir in the vanilla.

Pour the egg custard mixture over the caramelized sugar in the ramekins. Pour hot water into the oven-proof pan on the outside of the ramekins, so it comes up the sides about 1″. This will help steam the custard.

Bake at 350°F for 30 to 35 minutes or until a knife inserted in the center comes out clean. Remove the ramekins from the hot water.

Serve warm or cold. To unmold, run a knife along the inside edge of the ramekin. Place a plate over the top of the ramekin, and firmly holding both in your hands, flip them over so the plate is on the bottom and the custard should slip out.
Notes
You will need six 4-ounce custard cups (ramekins) or a 1 1/2-quart casserole dish.