Last weekend we went to a new-to-us campground near Houston, Minnesota. The place was called Cushon's Peak Campground, because (surprise, surprise), it's at the base of Cushon's Peak bluff. Our friends had tried this place out last year and said what a nice campground it was. We would have to agree – and can't wait to return!
It was just a short weekend camping trip – we left right after I got home from work on Friday night and returned Sunday afternoon. We saw a variety of weather on this trip: hot on Friday, sprinkles Saturday morning, gorgeous sunny weather Sat/Sun afternoons and chilly temps overnight on Saturday. I was thankful that our friends had an extra blanket. We would have survived without it but no sense being uncomfortable if you don't have to be.
The campground is within hiking distance of the Root River. My friend Colleen and I did make the trek, but I'm glad Little Chick declined that walk – it was quite muddy due to all the rain we've had recently. The Root River has changed a lot in the last year. If you look on Google maps for the campground area, there is a good-sized shed to the north along the river bank. Last year our friends were able to walk in front of the shed. This year, the shed is collapsed on the new hillside because the river scoured out the land underneath during one of its floodings.
The campground is also right along the Root River trail which has miles of paved road which you can bike – or walk along. (Note: the picture above is not the paved road; this was a campground hiking trail) I did bring my bicycle this time, but never got around to using it. Instead, I walked… and walked… and walked. I often lament that I'm lucky if I get 6500 steps in each day. This weekend I got 9.5K, 12.8K (!) and 10.6K steps in! It sure helped for sleeping as I'm discovering that the thin foam on our pop-up camper beds is not very comfortable!
On Saturday morning it lightly rained and so we decided to drive the short distance into Houston to visit the International Owl Center. That was worth the trip! The woman that led our information session clearly loves her job and we all learned a lot about our local owls. Funny thing – when we sat down, we spotted a "stuffed" owl up on a perch high above us… and then a few minutes later realized it was alive! They had 3 live owls there that day to view and learn about. It's illegal to keep birds of prey as pets, so this is their job – to educate people while they live in comfort after overcoming some sort of injury.
It was even more fun when we were able to use our knowledge that night and determine which owls were close by the campsite! We already knew the Barred Owl "who cooks for you" call, but did you know you can tell the difference between male and female calls by how long the last "note" of the call is? The male cuts it off short but the female draws it out. Yoooooooooo.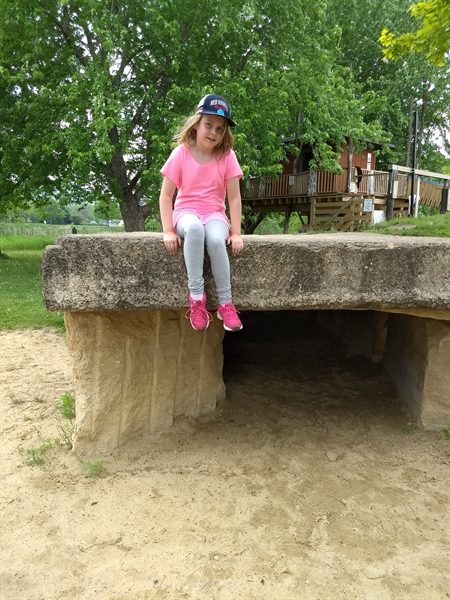 After the owl center, we visited the Nature Center a couple of blocks away and Little Chick got to play on the natural playground – rock-covered hillsides, slabs of rocks that created a cave/tunnel, etc. There was a mini zip-line with a seat that looked fun, but to get back after you rode it meant wading through a section that looked swampy (again, due to all the rains).
We had beautiful views from our campsite, which Colleen decided to paint. She and Little Chick enjoyed some painting / drawing time together and even I decided to paint one picture.
I'm not sure why mine looks so blurry in this collage. LC later added some details to my picture which frankly made it look even better, but I don't have a snapshot of it post-changes. (My daughter still clearly enjoys drawing more than painting, and that's ok!)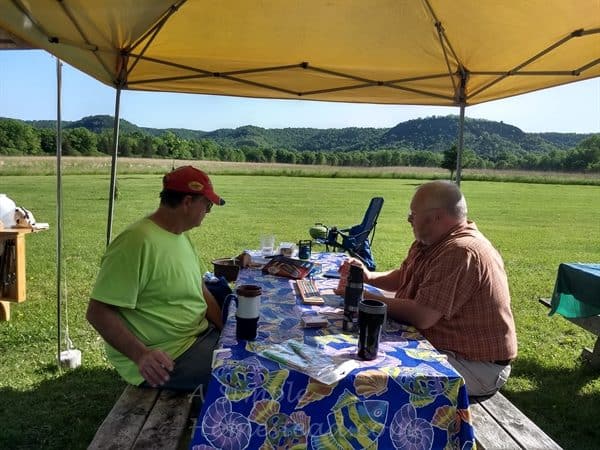 The "boys" as usual spent the weekend playing cribbage and "bickering" about who was winning or handing off terrible cards.
As usual, it was nice to get home and sleep in our own beds, but we had a relaxing weekend with friends and look forward to doing it again soon!