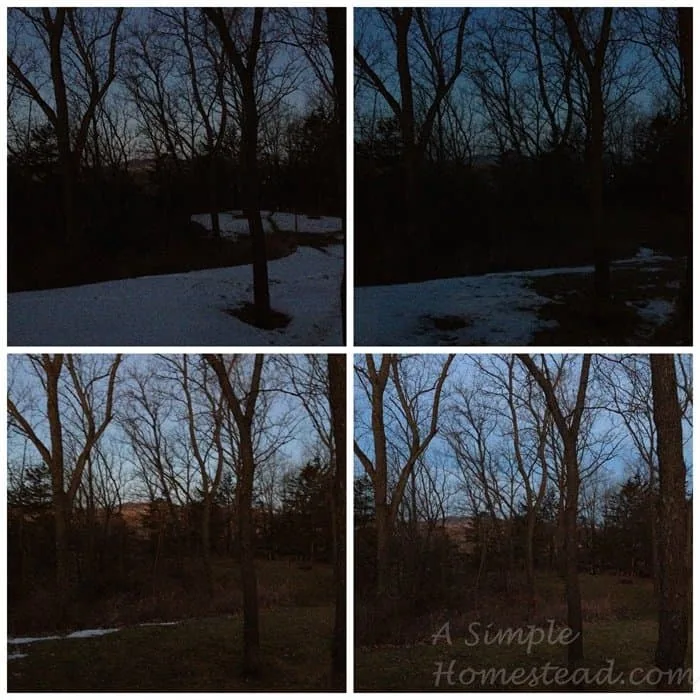 Last fall, Papa caught me taking my dozenth (is that a word?) sunrise picture in the morning. He suggested that perhaps I should do a project, taking one picture every morning at the same time of the same view.
October 1, 2014, I started what I refer to as the "7 am Project". In actuality, it's the 7-am-on-weekdays-when-we-are-at-home project, but that's too long to keep saying. I prefer to still be in bed at 7 am on weekend days; I may not be asleep but usually we can enjoy cuddle time with a little visitor who has crawled in with us. It also didn't make sense to snap a photo when we were in Florida because the view was completely different.
If I were to do it again, I think I'd pick a spot looking out the front of our house. Since our house faces east, I don't get to capture the colorful sky – and it can be rather dark out back. Even so, I try to make sure to stand in the exact same spot on the deck, framing in the shot by the same trees. I've gotten it rather close.  It should be interesting to see a year's worth of photos when I get done.
For now, I wanted to show you the photos from last week. The sky is a little lighter in the last two days, but what's more amazing is the color of the ground. We went from several inches of white to having the snow completely melted! Our temperatures are expected to drop a bit tomorrow but we've had several days of 50-60°F (10-15°C) in the past week. It's been wonderful! It's also a bit dangerous – some of my bulbs have sprouted and a few trees are showing buds; I hope they don't freeze out after the return to normal weather.
What's the weather like in your neighborhood?