Things have been rather serious on this 30 Days travel, so I'm going to lighten it up today.

Ah yes. One of my favorite places in the world to spend time.
If you're ever in the Winona, Minnesota area stop into this downtown shop and say "Hi!" Yarnology is located at 65 East Third Street.
They have the friendliest staff!  It doesn't matter if you're a knitter, crocheter, spinner, or weaver – they probably have what you need and can answer questions.  And if you go often enough, they remember your name.  Ahem … I don't know anyone like that! 🙂
I've been really good lately and have only picked up needles that don't exist in my collection – and that I need for immediate projects. I told you about the needles and book I picked up at on my Fiber Friday a couple of weeks ago.
I still can't believe I walked out of there without purchasing any yarn (not counting the free yarn I got that day). I mean – just look at the selection they have!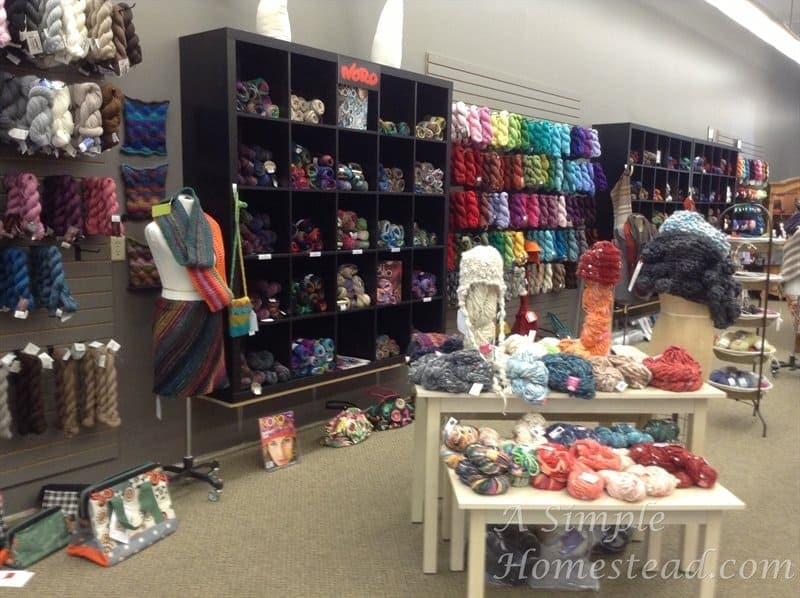 That is just one wall you're seeing! The opposite wall is just as full. They have this big open space with a couple of couches where you can come and chat, work your fibers, and ask questions if needed. In the back there's a nice open classroom area. There are several classes offered each month from beginning knit and crochet to more complex ideas. I've only taken one class. We purchased the book 55 Christmas Balls to Knit and worked through one of the balls together. It resulted in this beautiful ornament (I really need to try making more!).
*sigh* … do you suppose they'd miss me if I'd sneak out from work and spend the afternoon downtown?!